After rocking Phoenix this past weekend where she was the icing on the Super Bowl-Katy Perry weekend, Bonnie is headed to Louisiana for a three-night engagement in one of the world's greatest cities, New Orleans.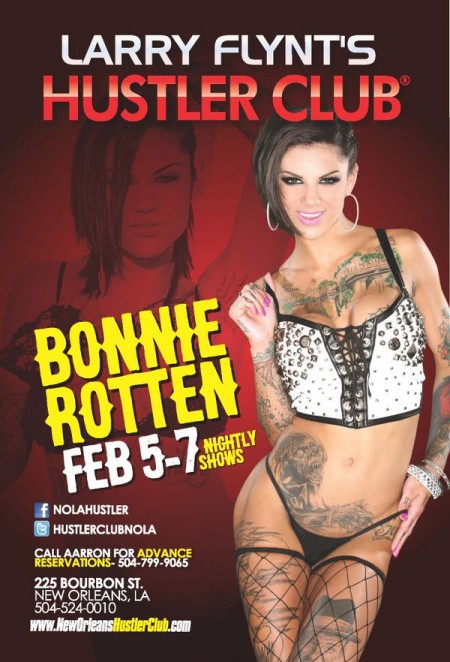 Bonnie will be the act to see as she headlines three nights at the New Orleans Hustler Club, located on the legendary Bourbon Street.
"It's going to be difficult to compete with an amazing weekend with one of the greatest Super Bowl games ever," Bonnie said. If any city can pull it off, it's New Orleans!"
She'll perform two shows each night, this Thursday through Saturday, Feb. 5-7.
Mainstream site EveryJoe.com came out with an amazing list of the top 51 stars in the adult industry and it's no surprise that Bonnie made an amazing showing, coming in at #2. Check out the feature at http://www.everyjoe.com/2015/02/02/girls/hottest-female-porn-stars-rank-2015/#46.
The latest movie starring Bonnie is Jessie Loves Girls (Sweetheart Video), directed by Dana Vespoli.
New Orleans Hustler Club is located at 225 Bourbon St, New Orleans, LA. For more information call 504.524.0010 or visit www.NewOrleansHustlerClub.com.
Visit her official website at www.BonnieRotten.com. Fans can buy lots of products, including videos, memorabilia, novelties, DVDs, clothing and lube. Content will continue to be loaded onto the site.
Follow Bonnie on Twitter @thebonnierotten. Her official website is www.bonnierotten.com. For everything Bonnie go to http://risingstarpr.com/news/?page_id=4171.