Featuring at the Hustler Club in St. Louis This Weekend
VENICE, CA – Bonnie Rotten fans in St. Louis have reason to celebrate this week with the world's most popular porn star coming to town for a three-night engagement at the Hustler Club. Fans outside the city will get a payoff, too, with the release of A Mother Daughter Thing 2 (Digital Sin).
Bonnie will be in St. Louis this Thursday through Saturday, Nov. 13-15, at the Hustler Club where she will put on one of the most talked-about feature shows on the continent today.
There is also another big release this week with the Jacky St. James-directed A Mother Daughter Thing 2. Bonnie shares a scene with her sexy friend Veronica Avluv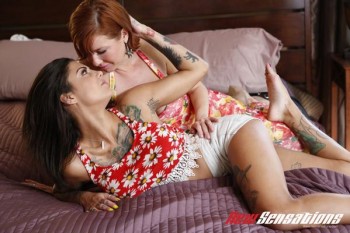 "I love Bonnie, we are very close friends, Veronica said in an on-set interview. "I met her as an extra on one of Paul Thomas's sets and she was brand brand new. We became fast friends. I had no idea know how young she was – I mean, looking at her you can tell she's fresh-faced and gorgeous – but the way she talks and thinks, she's kind of like me, we're both kind of like guys."
Judging by the string of hits Jacky has directed and Bonnie has starred in, this movie appears to be a shoe-in for topping the sales and rental charts.
For more information on the Hustler Club in St. Louis go to www.StLouisHustlerClub.com.
Her official website, www.BonnieRotten.com, is now live. Fans can buy lots of products, including videos, memorabilia, novelties, DVDs, clothing and lube. Content will continue to be loaded onto the site.
Follow Bonnie on Twitter @thebonnierotten. Her official website is www.bonnierotten.com. For everything Bonnie go to http://risingstarpr.com/news/?page_id=4171.