The Brazilian health ministry has scrapped a campaign called 'I'm happy being a prostitute' following widespread criticism in the progressive, but still deeply religious country.
The purpose of the online campaign was to promote safe sex and reduce the stigma against sex workers.
Other posters in the campaign carried slogans such as 'I cannot be seen without a condom, my love.'
But negative publicity forced Health Minister Alexandre Padilha to drop the campaign on Tuesday.
He told reporters that even though the ads were done to promote safe sex, it wasn't necessarily in the right taste for the country.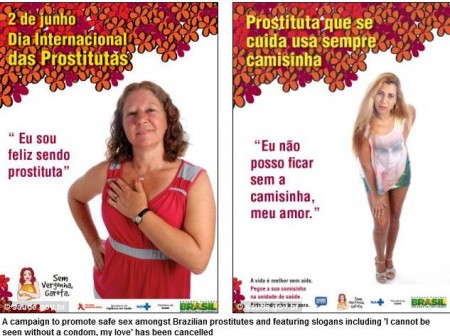 'The role of the ministry is to have specific content to encourage prevention among sex workers, who are a very vulnerable group,' he said.
Prostitution is legal in Brazil and the business is expected to experience a boom in the next couple of years as the country will play host to the 2014 FIFA World Cup and then the 2016 Olympics.
Meanwhile prostitutes in the city of Belo Horizonte are lining up for free English classes to enable them to communicate with the expected influx of foreign clients, reports CNN. Other languages being offered include French and Italian.
'They'll have to learn how to work out financial deals and also use a specialized vocabulary with sensual words and fetishes,' explained Cida Vieira, who heads the city's association of prostitutes.