Two months ago, Catarina Migliorini was auctioning off her virginity to help impoverished children.
Now, she's selling nude pictures to Playboy, and there's no further talk that she's doing it for charity.
Migliorini, the 20-year-old Brazilian woman who allegedly auctioned off her virginity online for $780,000 has parlayed her notoriety into a photo spread for Playboy, according to the Brazilian news website Entretenimento.r7.com.
The pictorial will appear in the January issue of the magazine's Brazilian edition, but there is no word on whether it will appear in the U.S. version of the magazine as well.
Migliorini was scheduled to lose her "V-card" between Nov. 15-20 with the help of a Japanese man named "Natsu," who won the rights via the Internet auction.
That deal hasn't been consummated, according to Frank Thorne. Thorne is a spokesman for Justin Sisely, the Australian filmmaker who masterminded the "cherry popping heard around the world" for a proposed documentary, said that the planned deflowering hasn't taken place.
"Things changed a lot as the documentary progressed. Other things are still in the works," Thorne told The Huffington Post. "For now, the project is on hold and as everyone is now closing down for Christmas, we are in limbo until the New Year. Can't say anything more at the moment, but there is nothing to report at the moment."
Migliorini had been living in Bali, pending the granting of a visa into Australia, where Sisely is located. In order to get the film completed in a timely manner, Sisely had planned for the sex between Migliorini and "Natsu" to take place on a plane from Bali to the US. This was also to avoid any type of prostitution prosecution in Indonesia, Sisely explained.
Now that Migliorini's visa issues are resolved, the devirginizing documentary will be filmed in Australia, and Sisely is confident the consummation can take place without any more snags.
"Due to Catarina's third visa attempt being granted to Australia, we changed our proposed plans of where the consummation would take place," he told HuffPost by email. "I am confident with Australian legislation which is why the auction and consummation is concluding in Australia."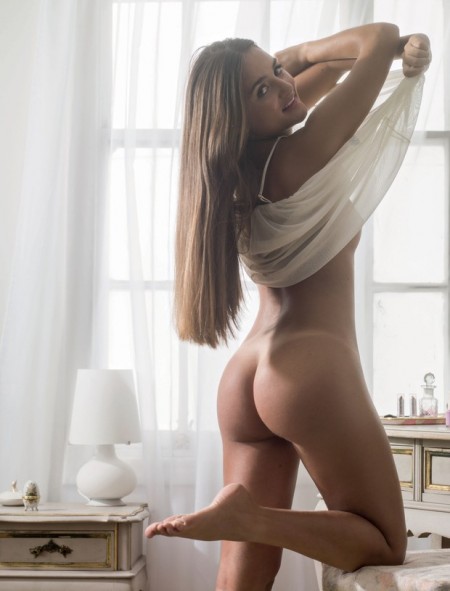 If this happens, it will be in spite of efforts by Brazil's attorney general, Joao Pedro de Saboia Bandeira de Mello Filho, who ordered an "urgent investigation," to look into the auction, which he equated to "people trafficking."
Regarding the Playboy pictorial, Thorne said that Migliorini arranged the deal with the magazine herself and Sisely was not involved.
When she first announced that she was going to sell her virginity online, she suggested that she would donate at least some of the proceeds to charity, a public statement that shocked Sisely.
"I was surprised she said that because in all my dealings with her, she made it clear that it was a business decision for her," Australian filmmaker Justin Sisely told HuffPost exclusively back in October. "Now, given how big this story is in Brazil, she's trapped. If she doesn't give any money to charity, she's going to look bad."
Migliorini has made no promises to donate any of her Playboy paycheck to the less fortunate.
Since Sisely first announced the project in 2010, it's been marked by skepticism from all corners, such as Brazilian-based journalist William K. Wolfrum, and hoax experts like Joey Skaggs and Alex Boese, and doctors like Dr. Elizabeth Lyster, a board-certified gynecologist in Foster City, Calif., with 20 years clinical experience, who said proving a woman is a virgin can be very difficult since an intact hymen — the standard of proof of virginity — can be ruptured from activities like running or inserting a tampon.
"It causes a lot of problems in religious circles," Lyster told HuffPost back in October.
The list of skeptics now includes people originally part of the project, such as Australian sexologist Elaine George, who interviewed Alex Stepanov, a male virgin also participating in the Internet auction (his virtue only netted $3,000).
"Unfortunately I think the whole thing is a sham," George told HuffPost. "I only met the male once and he appeared to have a lot of social anxiety. I did not feel comfortable with the project and think it is exploitation."
Also read:
Brazilian Student Selling Virginity To Build Homes For The Poor
Brazilian Student's Virginity Sold – For $780K