By AP
MORGANTOWN, W.Va. — A jail guard charged with sexually abusing three women at a West Virginia lockup since May has been accused of misconduct before and has been sued 11 times for similar allegations, a lawyer for alleged victims said Friday.
William Roy Wilson, 29, of Beckley, was being held on $75,000 bond Friday in an isolation cell at the same Beaver jail where he's worked since September 2008. State Police charged him Thursday with four counts of imposition of sexual acts of persons under supervision, saying he gave Southern Regional jail inmates cigarettes in exchange for sex. It is the first criminal charge Wilson has faced, said Trooper 1st Class M.S. Efird.
However, attorney Mike Woelfel, who has sued correctional officials dozens of times for sexual assault and harassment in West Virginia facilities, said the civil cases against Wilson go back to 2010. Two were settled for terms Woelfel said he could not disclose, and nine are still pending in Kanawha County Circuit Court.
"He continued to work as recently as 10 days ago – and was still working despite these other allegations," Woelfel said Friday, declining further comment.
Ashley Bennett, a spokeswoman for the West Virginia Regional Jail and Correctional Facilities Authority, said she couldn't comment on whether there had been previous claims against Wilson because authority attorneys who have access to that information weren't available.
The arrest, however, came after inmates complained to the authority, she said. After an internal investigation, the case was turned over to State Police.
"That's what happens anytime allegations are raised that staff might be involved in something illegal," Bennett said.
Wilson has been at Southern Regional since 2008 but has not worked at any other state jails, she said.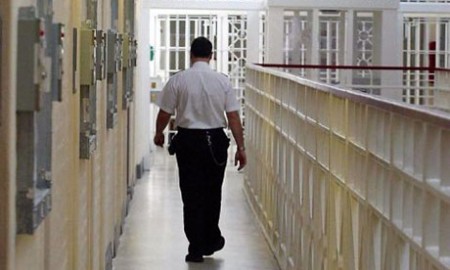 It wasn't immediately clear whether he has an attorney in the criminal case.
Woelfel has filed more than 50 cases against the Jail Authority and the West Virginia Division of Corrections, as well as cases against individual officers. He started in 2009, alleging a widespread pattern of sexual misconduct by male guards that was particularly acute at Southern Regional, the Beckley Correctional Center in Raleigh County and the Lakin Correctional Center in Mason County.
The abuse also came in all forms, the complaints say, from asking women to expose themselves or have sex with each other to peeping into bathroom stalls and showers. In some cases, guards exposed themselves and masturbated.
The lawsuits accuse the state of multiple acts of negligence, including failures of training, supervision and intervention.
The Department of Military Affairs and Public Safety has previously said that it takes all accusations seriously and investigates them thoroughly.