On the Air With Mary Carey This Tuesday, March 31
VENICE, CA – Kevin Moore was the lucky director to capture the first-ever interracial scene from Dava Foxx and this week the movie finally streets.
Dava wasn't messing around when she took on legend Lexington Steele for Lex Is a Mother Fucker #4 (Kevin Moore/Evil Angel) and the results are an intense and beautiful scene.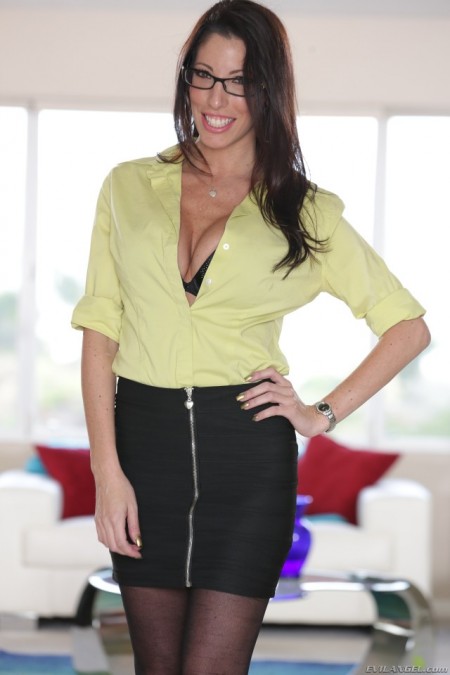 "I decided to do my first interracial scene for Evil Angel because they are a company that has always been good to me since day one," Dava said. "Kevin Moore is one of my favorite directors to work with! I'd never done interracial even off-camera before my scene. I chose Lexington Steele because he's a top-of-the-line guy! He's huge, has a great rep and girls love to work with him! I'm so ho happy he was my first!"
Dava will probably be talking about her scene with Lex and much more when she goes on the air with Mary Carey today. She'll be on at noon PT on Vivid Radio. For more check out @RealMaryCarey and @VividRadioSxm.
Check out Dava's new site at http://thedavafoxx.com/tour/?nats=MTQ5NC4xNi42NS44OS4wLjAuMC4wLjA.
Dava's customs page is at http://customs4u.com/customs/davafoxx. Watch Dava's mechanical bull riding at www.brobible.com/girls/article/adult-film-stars-riding-mechanical-bull/. Connect with Dava via Dream Lover go to www.dreamlover.com/DavaFoxx.
Check out Dava on FreeOnes and be sure to give her a 5-star rating while you're there. The site has a great collection of Dava's work and offers access to some of her scenes. Go to www.freeones.com/html/d_links/Dava_Foxx/.
For everything Dava Foxx go to http://risingstarpr.com/clients/dava-foxx/. For up-to-the-second updates, follow Dava on Twitter (@DavaFoxx). Her Instagram is @DavaFoxx.