VENICE, CA – This week Desire Films releases a two-disc Abigail Mac showcase that is going to be an early favorite for Showcase of the Year.
Appropriately-titled Abigail, the movie was directed by Ivan and features Leya Falcon, Samantha Rone, Lilly Evans, Bianca Breeze and Romi Rain. Abigail offers this rundown of the events:
• Ava Addams and I had an amazing black light scene.
• Leya Falcon and I did an amazing dom/sub scene where I am the dom and give her the beating she asks for.
• Samantha Rone and I created a 'hipster' scene where we talk about coffee and technology and just get weird, which turns into hardcore lesbian hipster sex.
• Lilly Evans and I shared a scene where we fucked in all red lingerie in front of a groovy setting.
• Bianca Breeze allowed me to worship her tall statuesque body.
• Romi Rain and I have a hot a sweaty workout scene.
Abigail says there are also some of her best solos and some great BTS footage.
Also this week is a scene from Twistys called "Livin' the Life," which was shot by Tony T, and Girlsway released a new pilot called "A Wife's Affair." It stars Abigail and Vanessa Veracruz and was shot by Stills by Alan and produced by Bree Mills. It's available on Girlsway.com.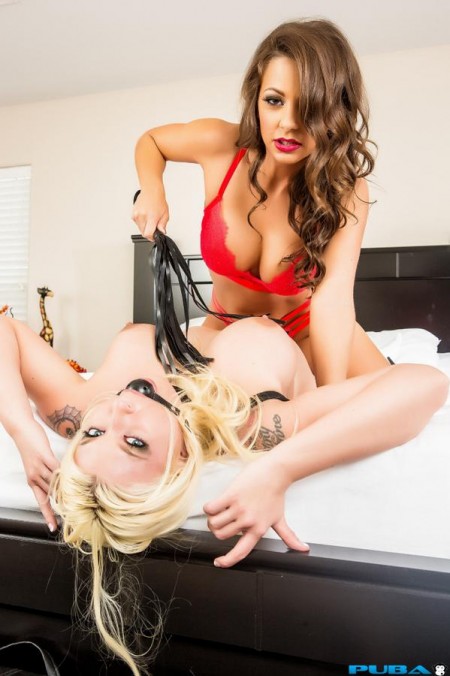 Abigail will make her feature dancing debut at Blush in Pittsburgh this May 5-9.
To book Abigail for a feature engagement contact Dave at A-List Features. Go to http://www.alistfeatures.com for more information.
Abigail has launched her official website, www.AbigailMac.com, complete with exclusive HD content including videos, photos and daily updates.
For everything Abigail go to http://risingstarpr.com/news/?page_id=7635. Be the first to know everything about Abigail by following her on Twitter (@MsAbigailMac). She's also on Instagram (MsAbigailMac).