This guy was not happy to see the family coming together.
A South Carolina man is accused of assaulting his girlfriend during a threeway with her and her cousin.
Terry Antone Jenkins, 25, was charged with criminal domestic violence Saturday after police responded to an 8 a.m. call, WMBF News reports.
Jenkins' girlfriend told the Horry County Police Officer who responded that she and her cousin were having a "threesome" and once Jenkins "finished," the two female cousins continued to perform oral sex on each other, according to a police report obtained by The Smoking Gun.
The kissin' cousins angered Jenkins, according to the report. He allegedly grabbed his girlfriend's hair and dragged her off of her relative before hitting her in the head and face and kicking her in the stomach. The officer noted a 3-inch scratch mark on the woman's neck.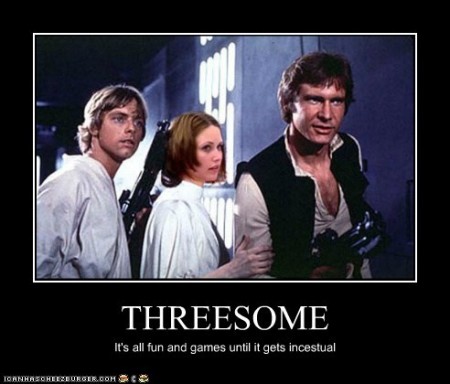 Jenkins, who claimed he did not hit either woman, was taken to jail. He was released the same day, and at 8 p.m., his girlfriend called police to say that Jenkins came to her home and attacked her again, hitting her in the chest before taking her cell phone and car.
Officials tracked Jenkins down and threw him in the slammer again on a second domestic violence charge, along with a charge of use of vehicle without consent.
Sometimes threeways go poorly even when the participants aren't related. Last September, a Florida threesome went awry when one of the two women became jealous of the other and fired a gun into the ceiling. The chaos that ensued led to a SWAT team surrounding the house.