A morbidly obese mother-of-two suffers a condition which compels her to devour donuts during sex.
Sammee Matthews, 42, from Las Vegas, has been diagnosed with sitophilia – an erotic obsession with food. In her case, she gets turned on by cakes and sweets.
She says just the sight of a bakery is enough to send her weak at the knees.
And her sexual fixation on sponge cake has contributed to weight gain which saw her tip the scales at 32 stone [448 pounds]. She has since lost four stone [56 pounds]  enabling her to go back to work.
She said: 'For some people oysters stimulate them, but for me it's anything sweet.
'I love cupcakes and cookies. It's the smell, flavor and texture that makes me feel aroused.
'When I can smell and see them I start to lose concentration, I stutter.'.
'I don't just look into a bakery and see a cute little cupcake – quite a few perverse things come to mind.'
Sammee takes her obsession into the bedroom where she eats donuts during sex with her partner.
She said:  'When I walk in to a bakery, the smell drives me wild and I have to call my boyfriend for sex.
'It's a huge turn on for me to be eating delicious cakes or donuts while making love. It gives me the most amazing orgasms.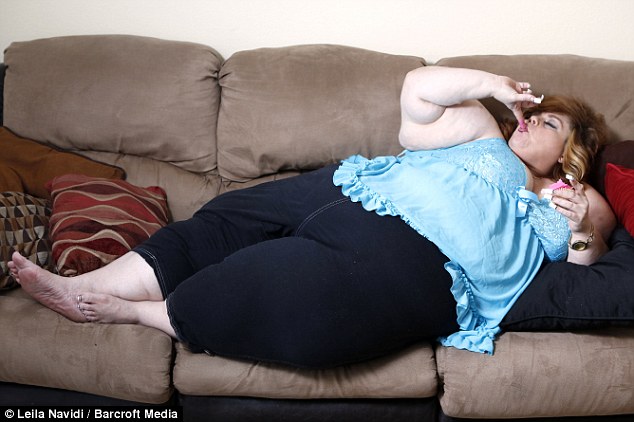 'There's something about the smell, flavor and texture which makes it so thrilling.'
However, her current relationship almost ended after she found out after two years that her boyfriend was married.
She said: 'It was a huge shock but I can't walk away from this guy.
'He tells me no one will love me the way he does, and I believe him.
'We're trying to keep some space between us but it's made me feel insecure and given me a fat girl stigma.'
Sammee, single mum to Sabrina, 22, and Anna 16, began putting on weight as a child and by the time she was 11 she weighed 14 stone [196 pounds].
She fell pregnant at 18 with Sabrina but split with the father before the birth of their child. She was celibate until she met Anna's father, but they broke up after two years together.

By that time her weight had reached 23 stone [322 pounds] but she continued to gain pounds.
At her heaviest she was 32 stone [448 pounds], rendering her virtually housebound. She needed assistance from her daughters to dress and eat.
But after losing four stone [56 pounds] through a crash diet, she became a BBW (Big Beautiful Woman) model and began making money through a pay-per-view webcam business.
Today 5ft 1 Sammee's BMI is 84 (the healthy range is 18-25) and says her new partner, who weighs 14 stone [196 pounds], understands her fetish.
She now runs a strip club night for overweight women called Thick Sundaes.

She said:  'I know my body is damaged because of my weight, I have no cartilage left in my knees. 
'Some days my feet swell up so much my daughter has to put my socks on.
'I take a lot of pills to help my muscles relax and to take away the pain.
'But I'm making the most of my situation by putting on nights which empower other larger women and hopefully can change perceptions of fat people.'