Scotland's The Herald reports that police carried out inspections of Edinburgh's sex-for-sale saunas hours before a new system came into force that is likely to make brothel raids more difficult
Officers entered 12 premises on the day before the saunas stopped being licensed by the local council. The new system may mean police will need a warrant to search premises suspected of criminality.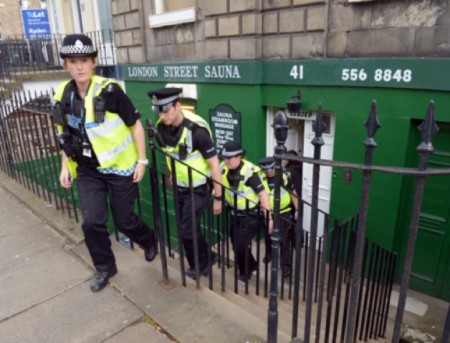 Since the mid-1980s, the local authority has granted public entertainment licences to saunas widely believed to be fronts for prostitution. Supporters of the "blind eye" approach, which was tolerated by police, argued that it kept sex workers safe.
However, the new single police force appeared to rip up the policy last June when its officers raided the saunas. Twelve people were charged with brothel-keeping and living off immoral earnings, or reported to the fiscal. The raids, criticised as heavy-handed, prompted the council to suspend some licences.
The prospect of endless challenges to the system led to councillors proposing that saunas should no longer be part of the licensing regime. The radical shift was approved in February and came in to force at midnight on March 7.
Prior to the change, officers conducted last-minute inspections of 12 saunas. No arrests were made.
One insider said the 11th-hour inspections were undertaken as it was the last time police could freely enter the premises to check whether licensing conditions were being met.
Backfire
Police will now require a warrant, voluntary admittance, or the use of other police powers to enter the unregulated saunas, which will now fall under the council's trading standards regime.
Margo MacDonald MSP said Police Scotland had destroyed a settled policy and made life harder for officers. "Last year's raids have backfired badly on the police," she said. "There was a successful policy in place for 30 years, but now the women have less protection and police will have less access to intelligence. Trust has been shattered."
LibDem councillor Paul Edie said: "The council's decision to withdraw from licensing saunas is a retrograde step. We will always have people who will do and use this kind of work. The old policy allowed saunas to be controlled and ensured that sex workers there were far safer than those in hotels or street prostitutes."
Superintendent Matt Richards said: "Police Scotland and partners planned and carried out routine inspections of Edinburgh's licensed saunas on March 7 as part our continuing commitment to harm reduction and protecting vulnerable individuals."