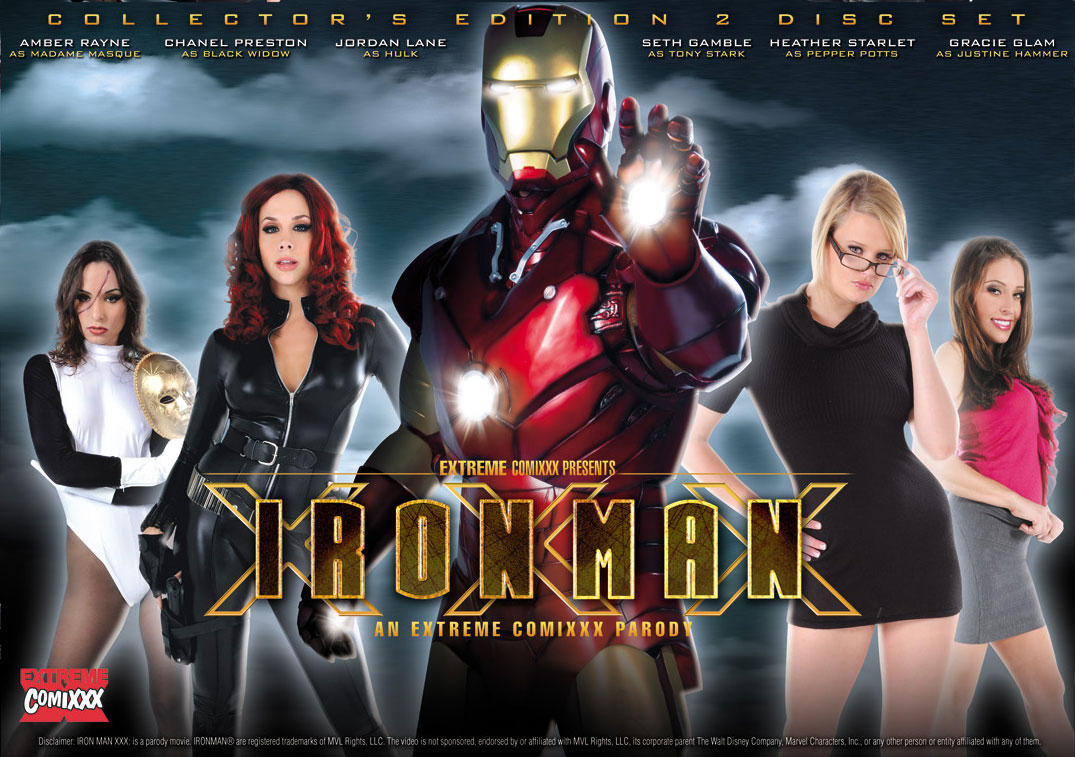 September 22, 2011 — CHATSWORTH, Calif. — Extreme Comixxx unveils the striking box art for "Iron Man XXX: An Extreme Comixxx Parody." Prominently featuring Iron Man (Seth Gamble), The Black Widow (Chanel Preston) and Pepper Potts (Heather Starlet), the cover displays the movie's high production value and attention to detail. By producing super hero parodies by comic fans for comic fans, Extreme Comixxx continues to earn a loyal following propelling each new release to the top of sales charts.
To view the safe-for-work cover for "Iron Man XXX: An Extreme Comixxx Parody," visit ExtremeComixxx.com.
To view the extended sized cover for "Iron Man XXX: An Extreme Comixxx Parody," visit ExtremeComixxx.com.
"In the case of 'Iron Man XXX,' you can absolutely judge the movie by its cover," states Extreme Comixxx owner Jerry E. "When a fan picks up the DVD, he will know right away 'Iron Man XXX' is our highest budgeted movie to date simply by looking at costumes. Every movie we release is a passion project of mine, and I demand the best."
Chanel Preston (The Black Widow) exclaims, "We were unable to take our eyes off the Iron Man armor the whole time we were on set. It is amazing! Extreme Comixxx went all out to give super hero fans the adult parody they deserve. Their enthusiasm made me even more excited for my scene with the Hulk. I had a super orgasm worthy of The Black Widow!"
Billionaire Tony Stark (Seth Gamble) invented the Iron Man suit for the good of humanity—the horny girls it attracts are a bonus. With his sexy assistant Pepper Potts (Heather Starlet) trying to ride him every chance she gets, Stark must stay focused to save the world. In "Iron Man XXX: An Extreme Comixxx Parody," Stark proves he's as super on the battlefield as he is in the bedroom.
When Iron Man's identity is revealed to the world, his enemies come out of the woodwork to take revenge. Stark's ex lover, Madame Masque (Amber Rayne) wants him dead, and she's gained control of The Hulk (Jordan Lane) to do all her dirty work. Stark's rival, Justin Hammer (Alex Knight), and his daughter, Justine (Gracie Glam) are also after Iron Man, using his technology against him. Iron Man's only ally is a mysterious Russian super-spy, The Black Widow (Chanel Preston).
Five explosive sex scenes, super babes in costume, high-end visual effects, and a mind-blowing surprise ending make "Iron Man XXX" the newest blockbuster hit from Extreme Comixxx! The movie also stars Tanya Tate, Riley Evans, Barry Scott and Dick Chibbles.
To see photos leaked from the set of "Iron Man XXX," visit ComicBookMovie.com
To view Extreme Comixxx's official cast photos, visit BleedingCool.com.
Extreme Comixxx is a division of Exquisite Films, the newest studio to launch under the XXX umbrella of Exquisite Multimedia, Inc. The premium feature studio is charged with the task of creating comic book driven parodies and high-end, erotic drama lines. For over ten years, Exquisite Multimedia, Inc. has produced and distributed some of the hottest, kinkiest sex available to watch on DVD and other platforms. The launch of Exquisite Films is the corporation's first foray into generating quality content geared towards capturing the interest of female consumers, in addition to its loyal male fan base.
About Exquisite Films:
As the high-end studio from Exquisite Multimedia, Inc., Exquisite Films produces some of the largest budgeted films released in adult entertainment. The emphasis on quality and aesthetics attracts female consumers and couples, in addition to male consumers Exquisite Multimedia has long satisfied. Strong, compelling stories compliment passionate, hot sex to create acclaimed movies in the parody and love story genres. Available on multiple platforms, including DVD, in-house VOD, mobile and broadcast, Exquisite Films' movies are ideally positioned to compete in a market demanding the very best. For more information, visit ExquisiteFilmsXXX.com, Facebook or Twittter.
About Extreme Comixxx:
Bent on world domination, Extreme Comixxx had the ingenious idea to combine the two biggest fantasy escapes ever, porn and comics. From a secret lair deep beneath the thriving metropolis of Los Angeles, Extreme Comixxx is the first studio entirely devoted to creating live action comics with today's hottest XXX performers. Extreme Comixxx allows Wonder Woman to finally put her golden lasso to some good, kinky use, while the Avengers are able to show how super stamina is the greatest power of all. A division of Exquisite Films, Extreme Comixxx employs lavish budgets to produce high quality, action-packed adult movies for today's discerning consumers. For more information, visit ExtremeComixxx.com or Twitter.