Not a day goes by without some entitled porn cunt being a porn cunt. Those of you that have followed this site of the last 12 years know the word 'cunt" is used to only describe the bitchiest of bitches. Lacy fits that criteria and them some..Like if TRPWL made a top 10 porn cunt list, Lacy would be right there fighting for that top spot.
Remember, this the chick who's so mentally unstable, some companies won't shoot her due to consent reasons..Basically companies are concerned that one day she will wake up, go on twitter, and say she ever consented to Ricky touching her elbow during a B/G scene. You would think that as many times as she's been canceled on, she would just LEAVE
Yes, OMG Lacy, it's the talent pool, NOT YOU
So when EXXXOTICA didn't offer to bring her to the next shows, it came as no shock to anyone that made a stink about it on twitter;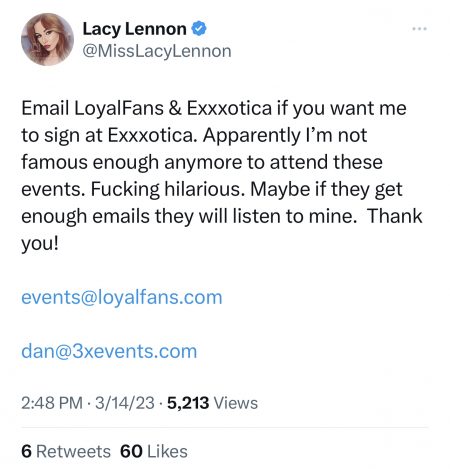 Lacy, the entitled cunt, doesn't want to have pay her own way to Exxxotica, she could get her own booth for like 600 bucks, for the cost of one private her whole trip could be financed.
But why should Lacy spend her own money, when she can create an uproar on twitter? It didn't take long for 3XEvents to cave into her demands:

And Lacy to delete her tweet. proving once again, the bigger the cunt, the more money someone will spend to shut them up.
To bad Dan at Exxxotica didn't take Famed Hollywood Mogul Les Grossman's advice  "We don't negotiate with terrorists"