A single-pill, once-daily regimen for HIV treatment, which includes two investigational drugs, did as well in clinical trials as two widely used regimens, FDA staff reviewers reported in documents prepared for an advisory committee review.
On Friday, the agency's antiviral advisory committee will consider the so-called quad pill, which includes two widely used anti-HIV drugs – emtricitabine and tenofovir – as well as a novel integrase inhibitor, elvitegravir, and a new pharmacokinetic booster dubbed cobicistat.
The quad pill's maker, Gilead Sciences of Foster City, Calif., is seeking approval for the drug to be used in treatment-naive HIV patients or in those previously treated but without resistance to any of the components.
If eventually approved, the quad pill would be the third single-pill, once-daily complete regimen for HIV, along with Atripla (efavirenz, emtricitabine, and tenofovir) and Complera (rilpivirine, emtricitabine, and tenofovir).
All four drugs in the quad pill are made by Gilead, which will seek separate approvals for each of the new drugs later, as stand-alone medications to be used in HIV treatment.
In briefing notes to the panel, FDA staff reviewers said that in head-to-head trials against two other widely used HIV regimens, the quad pill demonstrated noninferior efficacy in reducing viral loads to undetectable levels.
In addition, the safety profile was "generally acceptable," although there seemed to be a disproportionate number of patients stopping therapy with the quad pill because of renal adverse events.
The pill was tested against Atripla in one trial and against the ritonavir-boosted protease inhibitor atazanavir (Reyataz), combined with emtricitabine, and tenofovir, in another.
In the first trial, 87.6% of quad pill patients reached an undetectable HIV viral load by the end of 48 weeks of therapy, compared with 84.1% of those taking Atripla. In the second, quad pill efficacy was 89.5% compared with 86.8% in the control arm.
There did not appear to be any differences in efficacy among subgroups in the quad pill arms, FDA reviewers said. However, the reviewers noted that women made up only 10% of the patients in the pivotal trials.
The renal adverse events included an increased frequency of proximal tubulopathies among quad pill patients, as well as more graded serum creatinine and urine protein abnormalities. The advisory panel will be asked to comment on those before deciding if the balance between risks and benefits supports approval of the quad pill.
Agency officials also are seeking guidance on what measures should be taken to improve renal safety in patients taking the pill if the risk-benefit analysis supports approval.
The FDA is not obliged to follow the advice of the panel but usually does.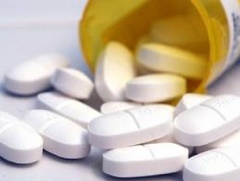 Source. MedPage Today