The Big Tits Dragon: Hot Spring Zombies vs Strippers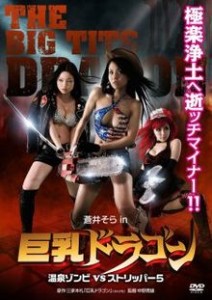 Big Tits Dragon: Hot Spring Zombie Vs. Stripper 5 is a 2010 Japanese fantasy-horror film. It was adapted from the manga Kyony? Dragon by Rei Mikamoto, and stars several known faces from Japan's adult movie industry, most notably Sora Aoi.
It is directed by Japanese cult satirist Takao Nakano and much of the action is shot in 3D. The film is said to be an ironical take on Japanese pop culture.
And did we mention it has a flamethrowing vagina?