If the Occupy protest taught us anything, it's that there's a porn to be made about just about everything.
A group of Bay Area pornographers has targeted local politics yet again with a tongue-in-cheek gay porn parody of San Francisco's recent nudity ban and its champion, Supervisor Scott Wiener.
San Francisco studio NakedSword took over the Castro District's Jane Warner Plaza on Sunday to shoot a scene from the film, cleverly titled "The Cover Up." The plot revolves around fictional Supervisor Scott Cox (cough, cough), and features an on-location nudity ban protest complete with nudity activist Gypsy Taub and a legitimate city permit.
"I was really frustrated by the way the [nudity ban] played out," said co-writer Conner Habib to The Huffington Post. "I like Scott [Wiener] a lot, but I don't think he was truly interacting with the community when he drafted that legislation. The whole thing was pretty ridiculous."
Habib, a writer, lecturer and porn actor, reportedly wrote the film with fellow writers/actors Leo Forte and Zachary Sire as part of the Golden Gate series (link NSFW) — a pornographic collection based on San Francisco by legendary director and co-writer mr. Pam.
"The series tends to be a bit more topical, and I've never written a movie before," admitted Habib. "But porn has historically been used as political satire and we felt very strongly about this issue."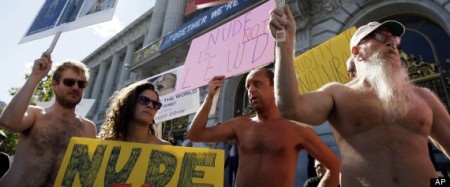 While the NSFW scenes were shot in more clandestine locations, the film's public nudity ban protest scene drew plenty of attention on Sunday.
"The actors and extras were holding these 're-elect Supervisor Scott Cox' signs and people were very confused," said Habib. "Everyone kept saying, 'I thought his name was Scott Wiener.' But eventually people were really interested."
According to Habib, the filming also give shunned local nudists another shot in the spotlight.
"Part of the idea was inviting people from the community to be extras in the fictional rally," said Habib. "A lot of the nudists who were there were excited to have a chance to speak since their voice has been stifled."
Did the crew manage to slip in any steamy scenes at Sunday's rally?
"I don't think we could get a permit for that!" laughed Habib. "But if you find out, let me know."
Also read:
SF Nudity Ban: San Francisco Supervisor Proposes Public Nudity Law
[NSFW VIDEO] Activist Gets Naked At San Francisco City Supervisors' Nudity Hearing