Are you looking for love, but finding yourself running into problems because, among other things, you happen to be dead?
This is the website for you.
Ghostsingles.com is a new option in the dating game for the spiritual remnants of immortal souls who want some company in the afterlife.
Yes, it's a hook-up website for ghosts.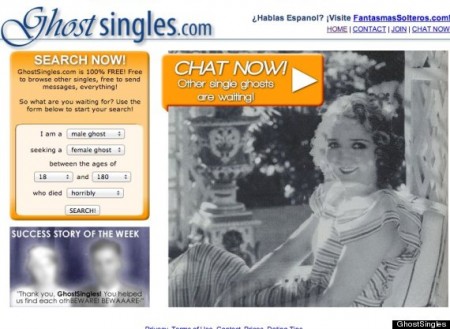 The site allows only "male ghosts" or "female ghosts" to join who are between the age of 18 and "1,000+". Here's their pitch:
"Meeting new people online can be a fantastic, fun experience. Of foremost concern, however, is safety, because meeting strangers can also be dangerous. If you're alive.

Thank goodness you're not, eh? What's the worst a psycho could do to you? You can't come to any bodily harm, because you don't have a body! Hurray for being dead! Am I right?"
Users have to specify how they died before they sign-up (the options are "horribly", "tragically", "mysteriously" and "suddenly") and are able to search for partners based on the same criteria. Some of the profiles on the site include:
The website also has a number of dating tips for the undead in a free-to-access FAQ section.
It says:
Compliment your date. Are they looking ghastly? Particularly eldritch? Be sure to let them know!
Don't kiss on the first date. Don't kiss ever, in fact, because your faces just pass through each other, and it's really weird for both parties.
Don't be offended if they suddenly disappear. You should know as well as anyone that existence in this twilight realm can be inconsistent. If your date vanishes, don't be too quick to judge.
And yes, it's a joke. But if there are any lonely ghosts our there, you could probably do worse than 'Phantom4u' – she looks pretty good for 134.