Renowned Director Leaving Evil Angel To Focus on Female Domination Genre
(LOS ANGELES – February 17, 2015) – Adult video director Glenn King announced today his departure from long-time distributor, Evil Angel Video. Glenn King's ManEaters 4: All Bush Edition, which streeted on February 9, will be his final Evil Angel release.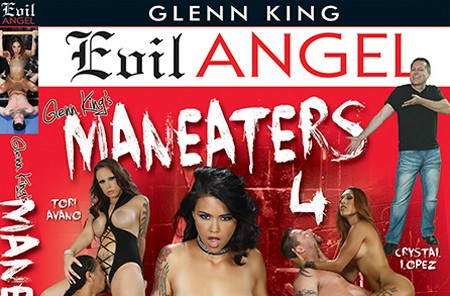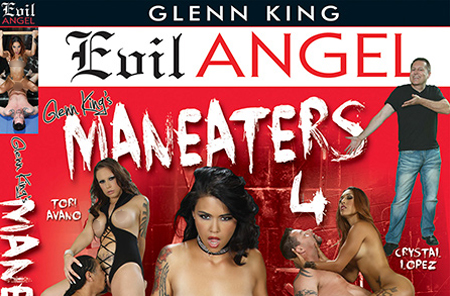 "Evil Angel is the best distributor in the world." said King "I have had a great 5-year run with them and I will be eternally grateful for all we have done together. My guess is that no company has sold more Femdom DVD's than the MeanBitch Productions/Evil Angel combination.
"Over the last two years I have moved from my traditional Facesitting/Ass Worship focus to videos that feature aggressive Hardcore sex.  If I were going to continue moving in that direction, I would be begging them to remain my distributor. But, that doesn't make sense anymore for both companies. I need to give my fans more traditional Femdom, focusing less on hardcore sex and more on Ass Worship, Foot Worship, and Facesitting. Such productions would be a great fit for the discontinued Evil Angel Buttman Choice lines, but not so much for their current offerings."
Refocus on Femdom
King went on to talk about his new direction by saying, "We have a new line called 'Ass Worship Junkies'. This is for the real Ass Perverts out there… in other words, people like me! If you have ever gone into a strip club and thought about offering to pay the stripper to let you lick her ass, or fantasized about licking the ass of a female co-worker, then this is the series for you. 'Ass Worship Junkies' is about perverts who are desperate to kiss, sniff, and lick women's asses. I understand you perverts and what you want to see, because I am one of you!"
Although King and his company MeanBitch Productions will continue to market scenes on DVD, the company's main focus will be Online Distribution. Videos will be available on AEBN, Hotmovies, Clips4sale, other VOD, and on the company's flagship website,MeanBitches.com.
King explained "We have reached an age where the DVD is no longer the primary method for most people to watch Porn. MeanBitch Productions is working on ways to be more interactive with our customers through Broadcast, VOD, Clips, and Custom Videos. With my new Broadcast Network, The King Adult Broadcast Network (thekingnetwork.com). We have dramatically expanded our reach. Now it's just a matter of providing the right content to the marketplace. "
Evil Angel will continue to manage the existing Glenn King catalog, which consists of "Femdom Ass Worship 1-24", "Facesitting Tales 1-4", "Glenn King's ManEaters 1-4", "When Pornstars Attack 1-5", and "Mean Cuckold 1-6".
About Glenn King: Glenn King an AVN-Award winning Adult Film Producer/Director whose website MeanBitches.com has been considered the Gold Standard of Femdom for nearly 13 years. His DVD's and content are viewed throughout the world. King is also the head of the King Broadcast Network, Host of Glenn King's ManEaters Show, Owner of MBIT Studios, Producer of the Upcoming Femdom Awards, and a member of the FSC Advisory Committee. To inquire about partnering or to request interviews, contact glenn@meanbitches.com.