For six years she has been shocking audiences across America as they prepare to ring in the new year. But this year, Kathy Griffin really surpassed herself during CNN's live New Year's Eve broadcast when she simulated oral sex on co-host Anderson Cooper as well as making jokes about his 'sack'.
Even when Cooper had to take a minute from the upbeat, lighthearted show for some serious news on the fiscal cliff negotiations in Washington, Griffin told him it should be called 'the fisting cliff'.
Viewers continued to be shocked and appalled at the comic's continuous racy jokes and outlandish behavior – which CNN have come to expect from Griffin.
Before the show had even begun, Anderson – predicting Kathy would get up to her usual behavior – tweeted: 'As always, I await New Year's Eve with Kathy Griffin with grave reservations and tremendous fear, and I want to apologize in advance to anyone she may offend/assault/attempt to kiss.'
To which Kathy responded: 'I don't know what Anderson has been doing this past year. I assume he has been sitting, eating Bon Bons in his mother's apartment [while] watching reality TV, while I was helping spread democracy in Egypt or Syria or whichever.'
About ten minutes into the program, the 52-year-old  told the CNN host she was going to 'tickle his sack'. As he giggled nervously back, Kathy quipped, 'You can say sack, that's not bad.'
Trying to cover her tracks, Cooper said: 'I don't know what you're talking about. I have no sack of gifts here,' to which Kathy responded, 'You're calling your privates your Christmas presents?'
But it was after the ball dropped at midnight the real fun began.
National correspondent Gary Tuchman reported live from Eastport, Maine, where the custom on new year's is to kiss a statue of an eight-foot sardine that they drop from the town's museum.
As the people of Eastport kissed the sardine, Griffin dropped to her knees in New York's Time Square and kissed Cooper's crotch over and over again.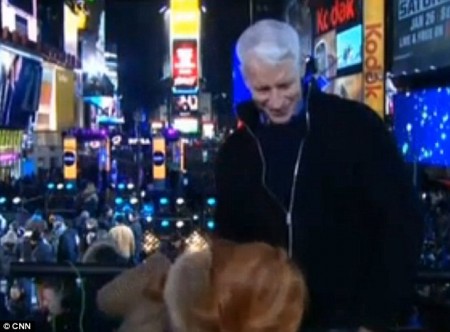 Once again, trying to cover up the lewd act, Anderson asked her if she dropped something. 'No I was kissing your sardine,' she replied.
As he tried to lift her to her feet, Kathy continued to try to kiss his crotch saying: 'I can do this all night long' and 'I'm going down. You know you want to.'
The racy tomfoolery was only stopped when they cut to Brooke Baldwin in New Orleans.
This behavior is just another in a long line of inappropriate gaffes.
In 2008 Kathy directed a graphic oral sex insult to a heckler. In 2009 she dropped the F bomb and last year she stripped down to her underwear.
This morning, Twitter and other social networking sites exploded with comments blasting Griffin's behavior and CNN for allowing her to host the show again when she has a history of outrageous behavior.
Darcy tweeted: 'I see tasteless, classless fame-whore @kathygriffin was once again a guttersnipe in search of 15 minutes more on @cnn last night. Gak.'
Dan Strnad wrote: 'A child mimics a gun with his fingers and he's kicked out of school. Kathy Griffin kisses Coopers crotch on live TV and it's funny.'
Michael Hairston said: 'Kathy Griffin kisses Anderson Cooper's crotch on live TV…….millions of school children were FORCED to watch this FILTH! IDIOT!'
Wiselatin commented: 'Just blocked cnn with the parental controls. Griffin is absolutely disgusting.'
Livedwell said: 'CNN is tanking and will do anything for ratings including lewd behavior like this. Just one of many reasons I don't watch CNN.'
A spokesperson for CNN has yet to respond to MailOnline's request for comment.