So AHF talks about porn production companies not being "good corporate citizens." I guess hiding money in the Caymans is the basis for being a good corporate citizen. Other notable good corporate citizens include Pablo Escobar, Saddam Hussein, and The Zetas.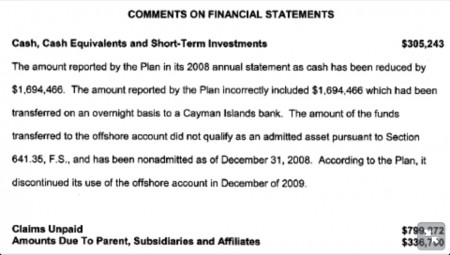 In 2008 AHF was doing business ass AHF MCO of Florida, if you skip to page 11 of the AHF Financials , it shows that roughly $1.7 million in missing funds had been transferred to an offshore account in the Caymans. AHF now claims that account has been closed..
I'm not a money launderer so I'm not up on the latest Cayman Island tax rates.
Offshore banking is typically any bank you choose from locations outside your home country that are considered as tax sanctuaries because of their minimal or no taxation policy on foreign investors and investments. The Cayman Islands have been in the offshore banking business for quite some time now, and their expertise over the years proves beneficial to investors. They have acutely maintained their stability and resoluteness in appropriately managing your finances.

Banking in the Cayman Islands, if you're from abroad, means that you have put your money in a better position to earn. The interest your money earns monthly or per annum is tax-free. The confidentiality clause in your client-bank agreement provides you with the assurance that your private information will be kept in good faith; unless otherwise proven that you have been involved in highly-suspicious activities, especially within bounds of the island.
I took that from howtohideyourmoneyfromtheIRS.com lol na, i found it on a Cayman island banking site… Point is, AIDS Healthcare Foundation and Michael Weinstein have no issues wasting your tax dollars on legal wranglings related to Measure B, but as my pal Anthony Kennerson says, "They Dont Want To Pay Their Fair Share"
My question is, if they are a non profit, why do they need to bank in the Caymans?
My Mama used to say people who live in glass houses shouldn't throw stones…