Do you know how hard it is to make it into my top 5 scumbags list? This is fucking porn, there's a scumbag behind ever corner, behind half the cameras, behind half the stunt cocks, and half the fake orgasms. You can go to AVN, put on a blindfold, throw a rock and hit 5 pieces of shit.
Riley is no stranger to TRPWL, having graced this pages of this fine blog many times, dating back all the way back to 2015.
Earlier today, I came across these tweets: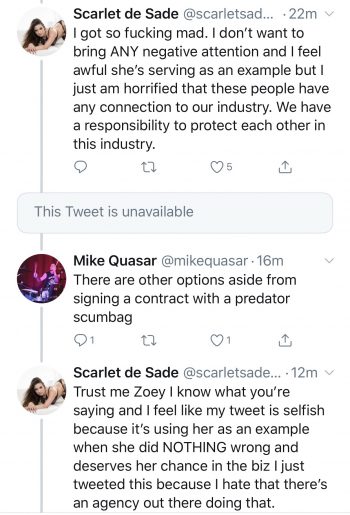 Wanting to know who she was talking about, I called a guy, who knew a guy, who was friends with a guy, who lived next to a guy, whose sister had a Twitter account, she told the guy, who lived next to a guy, who was friends with the guy, who knew the guy who knew me, to DM and ask. So I did.
Indica Monroe is the performer being refereed to in the tweets.
Indica, who turned 18 on June 17th, is the legal age to shoot porn.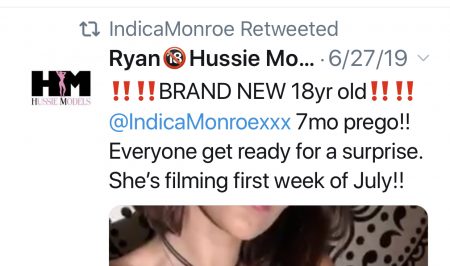 So lets see, turned 18 on June 17th, tweeted June 19th, Tested June 28th.
I guess Hussie wants everyone to believe that in between the 17th and 19th, they signed her, named her, took pics of her, added her to the site, and set her free in the Twitterverse? That some how there was NO communication or exchange of pictures prior to her 18th birthday? Bullshit.
I texted 2 agents, asked them both if they would ever sign a girl who was 18 years old and 7 months pregnant. Wanna guess what they said?  NO
But then, the 1000 bucks they stand to loose by not signing her is outweighed by something that seems lost in porn as of late, doing the right thing.
Riley, not only did business with an underage girl, he brought her into the world of porn 2 months before she's due to give birth and had her shoot for at least one of his sites. Like at what point in your life do you look back on everything you've learned and realize this was a terrible idea?  I know what you're thinking, someone would have signed her. I disagree, the Top 4 would have stayed away, Scott from Plush is gone, Kevin is busy stealing money from girls Onlyfans, Brian is busy hoping he won't get caught licking belly buttons, and Shy is stupid, but not that stupid. Nope, doing business with 17 year old pregnant girls is all Hussie.
Truly a sad day.