This film made its debut at Toronto International Film Festival
CTVNews.ca Staff
Source: CTV.ca
Victorian-era England may seem like an unlikely time and place to have produced the first vibrator, but that's the strange historical truth explored in Maggie Gyllenhaal's new romcom, "Hysteria."
"Look at me. I'm blushing just talking about vibrators," Gyllenhaal said, with a grin, as she chatted about her film and its debut at the Toronto International Film Festival.
"This movie taught me a lot about vibrators and what brought about its invention in the 1880s. But it also taught me one other thing: If I'd been alive back in Victorian England I would never have survived it. No strong woman could," said Gyllenhaal.
In Gyllenhaal, director Tanya Wexler found the perfect actress to play Charlotte Dalrymple, the elder, opinionated daughter of an eminent London doctor specializing in women's medicine.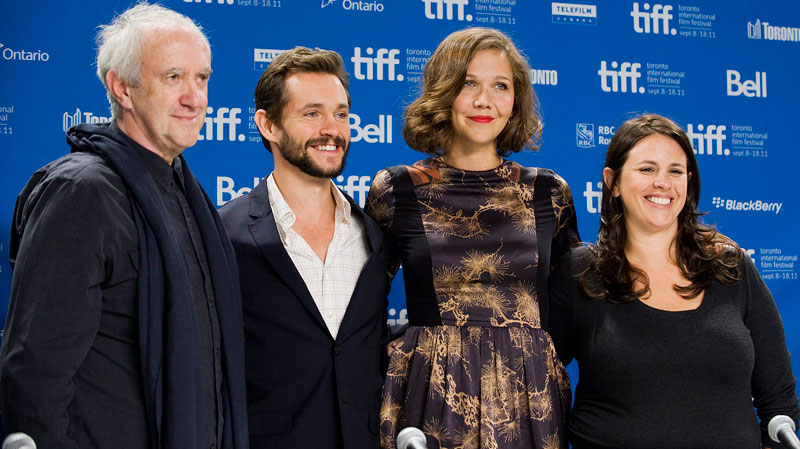 Actors Jonathan Pryce, Hugh Dancy, Maggie Gyllenhaal and director Tanya Wexler stand for a photo at a press conference promoting the film 'Hysteria' during the Toronto International Film Festival in Toronto, on Thursday Sept. 15, 2011. (Aaron Vincent Elkaim / THE CANADIAN PRESS)
Charlotte's father, Dr. Dalrymple, has built a lucrative practice treating middle-aged women suffering from hysteria. That disease, so doctors of that era believed, was brought on by such symptoms as nymphomania, frigidity and melancholy.
But Dalrymple's patients find their relief – literally in the hands of Dr. Dalrymple, who brings the women to orgasm.
Dr. Dalrymple's new assistant (Hugh Dancy) also learns to perform this treatment by watching his boss in action.
In fact, Dr. Granville has to have his hands iced after each appointment because of so much wear and tear from his patients.
"The big irony here is that there's never really any sense of sexual impropriety," said Gyllenhall.
"No one gets aroused for the reasons we'd expect. It was like going to the dentist. You'd clean your teeth. You'd fix that filling. You'd walk out happy and there's no one to blame. That's what still astounds me," she said.
Charlotte, of course, thinks all this is nonsense.
"She's a humanitarian," said Gyllenhaal.
"She helps the poor. She puts money in the pockets of struggling mothers so they can feed their kids. Charlotte's a fighter. She cares about people. That's why I wanted to play her."
Falling in love on screen with British heartthrob Hugh Dancy also held some allure.
"Charlotte absolutely detests this guy as this film begins," says Gyllenhaal.
"When Granville invents the vibrator she sees him as a mercenary, not a doctor. She mocks him every chance she gets and then – bam! – love hits them."
Wexler's tale doesn't judge the times or the prudishness of the age. Gyllenhaal, too, never pontificates about the plight of women or the injustices their sex suffers. "Hysteria" puts laughs and heart above politics.
"People can have all the conversations they want about morality, sexual equality and discrimination – things that do play a part in this story," said Gyllenhaal.
"But at the end of the day it's love, not the vibrators or politics, that gives this story its spark."