VAN NUYS, CA —Immoral Productions proudly presents the latest volume of their multi-award nominated series, 'Asian Persuasion 7'. This lucky seventh volume features five sensational starlets showing the sexual secrets of the Orient.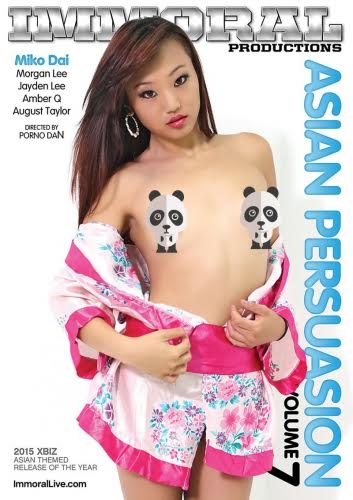 This edition features cover model Miko Dai, a pretty-and-petite Japanese girl who shows Chas Carter the time of his life. Jayden Lee is a wild vixen from Vietnam that gets the cock she craves from and swallows every drop of his sperm. August Taylor is a horny babe of Chinese decent that loves Scott Lyon's staff in her slit. Morgan Lee is a sexy Korean that rides Chas with unbridled passion. Amber Q is a tiny girl from Hong Kong that can't get enough of the hard cock of Mr.Carter.
Cover model Miko Dai said, "I had an awesome time with Chas!"
Immoral Productions Chas Carter said, "There is a reason I'm in four of the five scenes in this movie, I'm addicted to Asian woman!"
Like all Immoral Productions titles, Asian Persuasion 7 is distributed via Pure Play Media. Their sales representative Michael said, "This seventh volume of Asian Persuasion has five action-packed scenes with a great variety of sexy models."
Contact Michael at sales@pureplaymedia.com 954-903-3347 for further details and ordering information
For more information, go to PurePlayMedia.com, PPMB2B.com and follow @PurePlayMedia on Twitter.
Immoral Productions is the brainchild of 'Reality' and 'Gonzo' producer 'Porno' Dan Leal, who produces fresh, edgy content in conjunction with his team of talented, award-winning directors. Immoral Productions releases eight titles a month via Pure Play Media. They received over 100 AVN and XBIZ award nominations, including "Studio of the Year", "Progressive Company of the Year" and are the industry leaders in producing live adult content. Immoral Productions is the home of 'Spontaneous Gang Bangs and Unplanned Orgies' and proudly proclaim, "We don't fool ourselves, we shoot porn, and porn should be fun!"
Please visit ImmoralProductions.com (http://www.fuckafan.com/tour/) and follow @ImmoralLive (https://twitter.com/ImmoralLive) and @PornoDan (https://twitter.com/PornoDan) on Twitter and Facebook (https://www.facebook.com/dan.leal)
Follow Us on Twitter: @pureplaymedia
For ordering, please contact Michael: Mike@pureplaymedia.com or at 954-903-3347 (X2224)
For Media Inquiries please contact: pr@pureplaymedia.com
Dan Leal
CEO, Immoral Productions
21110 Nordhoff St Unit C
Chatsworth, CA 91311
Cell 818-799-8105
http://fuckafan.com/
http://immorallive.com/
Email dan@immoralproductions.com