At the 2014 XBIZ Awards, host Jenna Jameson is a wreck. She has difficulty pronouncing words and is moving slow.
She stands with her arms on the rostrum, leaning forward, almost hunched over.
Two sources backstage indicate the show started late because the producers had difficulty getting Jameson out of the makeup room.
Jameson introduced presenter (and seven-year veteran performer) Lexi Belle as a "brand new girl".
James Deen and Stoya, sitting with Whiteacre, Jesse Jane and Keiran Lee at table 20, were audibly astounded by Jameson.
Jameson's stupor soon became a running joke onstage.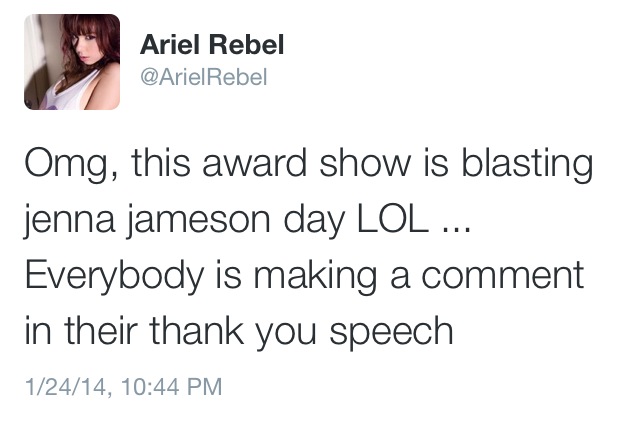 During one segment, presenter Steven St. Croix pantomimed sending a text about Jameson — with the hashtag: #trainwreck
The consensus in the room seemed to be that Jenna would have done less damage to her reputation and career had she been a 'no show'.