Since the tragic passing of August Ames, people in the press, performers and fans have all agreed on one thing, bullying lead to her suicide. Twitter has been nonstop in regards to who bullied her more and who's bullying "wasn't that bad." Attention mongers, mostly the failed union APAG, have fixated on one person in particular, Jessica Drake.
There is so much irony in the blaming of Drake I don't know where to begin, The thing that stands out the most, is the bullying of Jessica Drake by performers who are mad she bullied August.
When it was reveled in posts by myself and others that Drake had been involved in the twitter thread involving August right before her suicide, a small number of performers started calling for Drake to be ousted as host of the 2018 XBIZ Awards.
Drake, along with her husband Brad Armstrong rallied against those calling for her ouster, Drake went into full denial mode going as far to say she never tweeted at August, taking it one step further, when people said Drake had deleted her tweets, Drake said she would delete her twitter if those accusations turned out to be true..
Flash forward to a couple days ago, Kevin Moore, August's husband of 4 years posted this blog on Augusts blog.
Here are just a few of Kevin's words;
I write this to make it crystal clear: Bullying took her life. If the harassment had not occurred, she would be alive today. She ended her life the day after the bullying began. To think they are unrelated is delusional.

One isn't planning to take their life when they just bought a new kitten that they adored.
One isn't planning to take their life when they bought plane tickets to see their family at Christmas.
One isn't planning to take their life when they bought a bridesmaid dress for their best friend's wedding next summer.
When he gets to the topic of Jessica Drake, he included a screen grab taken from a tweet Drake made and allegedly deleted, I say allegedly not because I dont believe Kevin, but because I dont feel like going thru Drakes timeline. Kevin took it a step further by offering up some motive.
August's suit against Axel:
However, there is information that has never been made public that calls into question Ms. Drake's motives. In 2017, Mercedes filed a legal complaint against Axel Braun, who, like Ms. Drake, is also under contract to Wicked Pictures. That hearing date now approaches. It is my belief that that the real reason Ms. Drake engaged Mercedes on social media was as a form of punishment for her legal action against another Wicked Pictures employee. Since her death, neither Ms. Drake nor anyone from Wicked has contacted me, which only reinforces that opinion. Those are the actions of a guilty conscious, especially when you consider my own long-standing working relationship with Wicked Pictures.
August, like others, had a payment dispute with Braun, because of this, August had to retain an attorney..
After Kevin's blog was posted, it became national news, covered by great sites like WSJ and TRPWL, as well as a slew of others, this re-energized the boycott XBIZ movement from mostly C-listers to some name brand talent:
From Jessa Rhoads twitter:


Despite attempt's by others to shift the gears from Kevin's blog to Stormy's trump story, the boycott XBIZ movement isn't going  away.
It's safe to say at this point Jessica Drake is more of a distraction then anything else and should step aside. While Brad and Jessica both claim she's got no cuplbality in Ames death, public perception says differently and needs to be taken into consideration.
Given both Drake's and Brads penchant for calling for the resignation of politicians without due process, Drake should just step away from 2018 XBIZ. She's bringing unwanted attention to XBIZ, Wicked and others she's connected to. The best way to end that, or at least the XBIZ part, is to just walk away…
As far as August's death, do I think Jessica's tweets, the ones I've seen, are horrible? No not even close.  I think Brad said it best: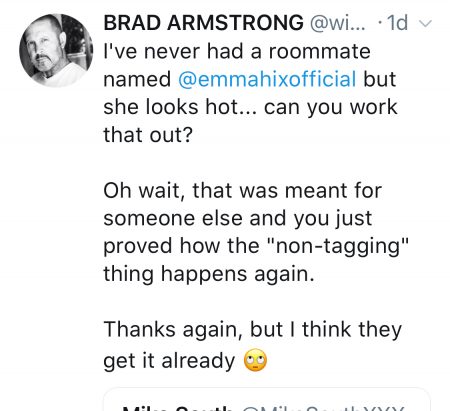 Twitter's new tagging and replies is confusing to say the least, I've replied to the wrong people many times and had to delete and reply differently.
As confusing as it is, it's no big surprise that when people starting piling on August, and Drake chimed in, how August could of felt like Jessica was also taking shots at her. Add Drake's half a million followers, and her popularity, and this could of very well have been the trigger that pushed August to take her own life.
Sometimes it's the things we think are just random that turn out to be some of the worst things possible.
In the end, Drake whether intentionally or not, contributed to the death of August, and she has to bear some of the burden…