In advance of the potential passage of a state law that would require condoms on all pornography sets in California, Kink.com (NSFW!) has made good on a threat to leave San Francisco by renting a new office in Las Vegas and taking an exploratory mission there in the last week. Kink CEO Peter Acworth has issued a statement about the trip, saying the company did two full feature shoots there and did some feeling out of Nevada's permitting rules, all in preparation for a possible move if AB 1576 passes the Senate and gets signed into law.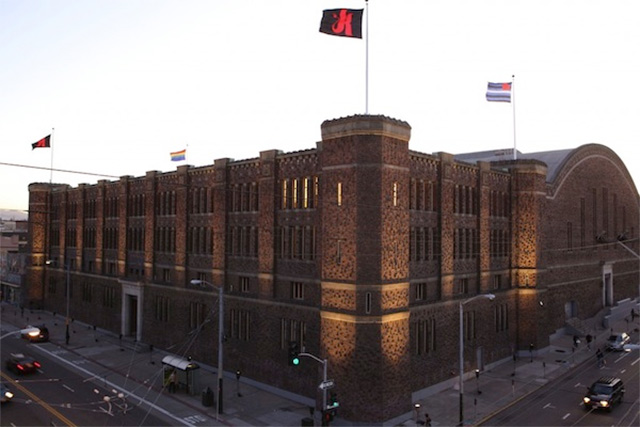 Kink bought and took over the long defunct former National Guard Armory complex in the Mission district in 2007, after the building was found to be basically impossible to reuse for most redevelopment purposes and historically protected. It had been vacant since 1975, with activists long fending off the scourge of developers looking to turn it into condos. Acworth bought the building with earnings from his then 10-year-old company for $14.5 million. The rapidly growing porn company made use of the Armory's warren of basement rooms and large upstairs spaces for various S&M internet porn brands, and gained publicity for its titillating public tours of the place.
In 2012, they expanded with the Armory Club, taking over a dive bar kitty-corner from the Armory at Mission and 14th and transforming it into an upscale cocktail bar with an underlit amber bar, textured wallpaper, and S&M artwork.
Condoms have never played a large role in the heterosexual porn industry, and industry wisdom has been that porn is about fantasy, and condom porn doesn't sell. Tensions have arisen in the gay side of the industry since the late 1980s after all the established studios ultimately agreed to shoot only with condoms in the wake of the AIDS epidemic. Those rules have become more lax in recent years, however, as so-called "bareback" studios have taken a large portion of the market share among those gay customers who still pay for their porn online.