I was fortunate enough to spend some time around Lily LaBeau last week in LA but up until about 20 minutes ago I had never seen her work. I'm a Bangbros affiliate and came across her tugjob shoot. When I was around her I was to busy staring at her ass to notice if she was wearing glasses or not. But seeing her in the Bangbros stills with glasses elevated her into AWM top 10 hottie status.
It's a weird thing, a chick can be hot already but add some glasses and all the sudden I get a instant boner. Like a hot Indian chick, add a red dot to her head and she's even hotter. And if the glasses weren't enough to make her top 10 worthy check this out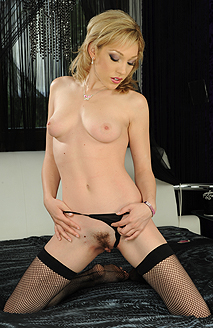 Lily has a bush, now we have glasses and a bush. I repeat, glasses and a bush. These are the things that can make a normal chick win a Miss America Contest.
Some advice for you ugly chicks, grow a bush and buy some glasses. I promise you success in the dating game. If you have a bush a guy like me will be distracted by it instead of your hideous face.
Check out Lily on Twitter