Multiple award-winning web cam sensation LittleRedBunny has added to her accolades, earning Best Female Live Cam Model at the first annual Live Cam Awards. As one of the most recognizable web cam models in the world, LittleRedBunny held the distinction of the Red Carpet Guest Star for the event dedicated entirely to the adult web camming industry.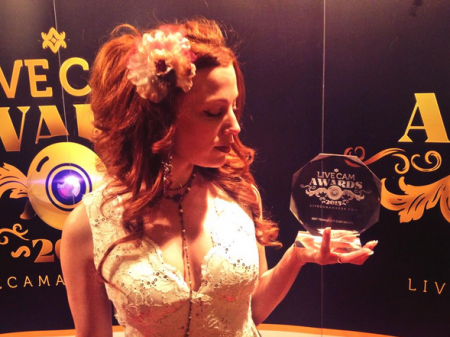 "I was so happy to finally meet LittleRedBunny; she is as amazing as I imagined her to be," said Alexandra Georgia, founder, organizer, and co-host of the Live Cam Awards. "She is truly an inspiring and motivational spirit. I want to congratulate her on winning Best Live Cam Female Model. I know it might be a bit out of their comfort zone, but [the models] are finally awarded as they deserve, in the first ceremony dedicated exclusively to the Live Cam Industry."
This newest award gives LittleRedBunny the unique distinction of having earned the inaugural web camming award at three different events: first at the Sex Awards in 2013 for Best Webcam Girl, second at the 2014 AVN Awards for Favorite Webcam Girl, and now at the Live Cam Awards.
"I want to thank everybody who supported me," LittleRedBunny said during her acceptance speech. "Also, I have heard more and more lately there are a lot of performers and studios who support me and respect my work and this touched me a lot to be appreciated by my peers."
While in Barcelona for the European Summit and Live Cam Awards, LittleRedBunny continued to represent the web camming industry to international media, including a full-page interview in the popular Catalan newspaper ARA.
Held in the 19th Century Catalan Renaissance-style mansion dubbed Finca Mas Solers, which previously housed old Gran Casino de Barcelona, the ceremony went extremely well, according to Georgia: "The first Live Cam Awards gala was a huge success. We had over 250 guests registered for the LCA ceremony, more than any mainstream cam summits or events ever gathered before in real numbers, and that's totally thanks to our major sponsors: Jasmin, Camplace, Xmodels, Affil4you, [and others]."
LittleRedBunny is a multiple-award-winning web cam performer who stands out due to her vintage 40s-50s look and enthusiastic sex appeal. Since her camming debut in 2009, she's taken sensuality, erotic playfulness, and sex appeal to another level. Her fast rise as a superstar among cam girls was affirmed when she earned the 2014 AVN Award for Favorite Web Cam Girl and the 2013 Sex Award for Best Web Cam Girl.
Last year, The Daily Beast's Richard Abowitz declared LittleRedBunny the "Queen of Cam Girls" when he wrote, "Who is LittleRedBunny? That's what the adult industry is asking after a red-haired girl with a French accent became the hottest cam girl on the Internet!"
LittleRedBunny is online at www.LittleRedBunny.com.