(Woodland Hills, CA) May 13th, 2014 – Applying makeup, to the untrained, un-eyelinered eye, may seem like an easy task. It takes a big man to admit that applying makeup can be hard. It takes a bigger, harder man to apply that makeup. WoodRocket.com presents male porn stars applying porn movie makeup to female porn stars with hilarious results in the new web series, Makeup Sex.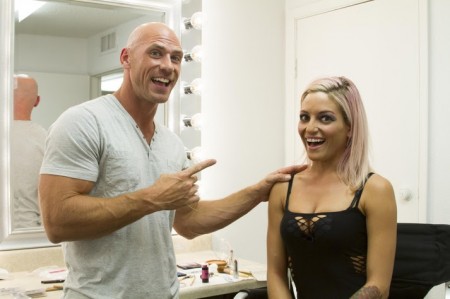 There is an art and a science behind porn makeup. With so much sweating in a XXX scene, HD and 4k cameras being so unforgiving, plus the need to fulfill viewers' fantasies with fantastic faces, adult film stars usually sit in a makeup chair for about an hour before each scene. Their male scene partners often wait and question the validity of their wait time. And then they remove the makeup with their hands, chest and genitals, and without recognition of the work that went into applying it.
Today we salute makeup artists! Today we show how difficult their job really is! Today we have Makeup Sex!
The first episode of Makeup Sex is now available on WoodRocket.com. The premiere stars up & coming porn starlet, Kissa Sins, sitting in the makeup chair of popular male adult performer, Johnny Sins (no relation), in his first attempt at applying semen-resistant makeup.
Watch Makeup Sex for FREE at www.woodrocket.com