The 46-year-old celebrity wrote that sex workers 'should be worshipped,' not shunned and stigmatized.
In a magnificent, epic Tweet-a-thon, Thursday, comedian, actress, fashion designer and author Margaret Cho opened up about having been a sex worker when she was young, and demanded respect for sex work.
"It's hard labor and deserves dignity and DIVINITY," wrote Cho.
Chow revealed in a September interview with Billboard magazine that she was raped between the ages of five and 12. Following a break before it started again when she was 14.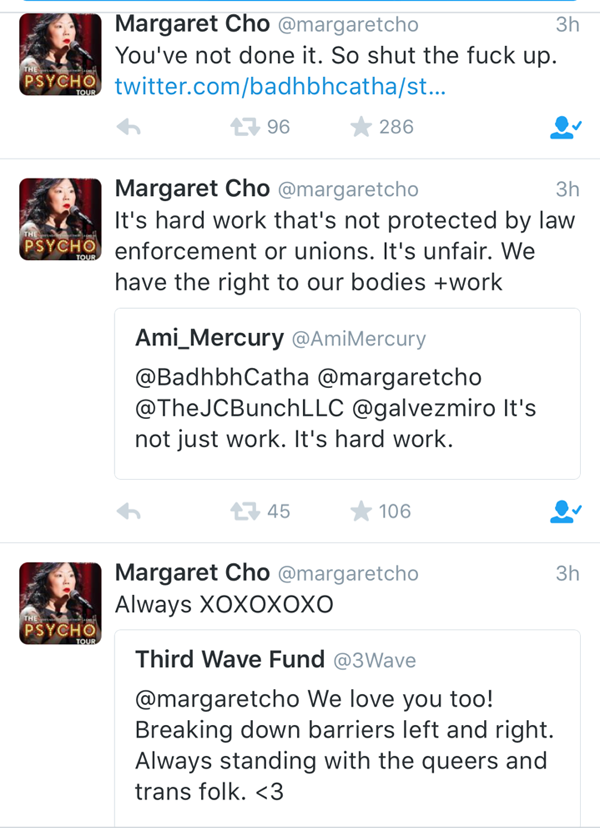 Our friend Anthony Kennerson nails it, and earns a re-tweet:
Cho took to twitter to respond to public criticism of the stigma attached to the various facets of the sex industry — one where one Twitter user, @SadieXCummings, said "they pay us in the dark and shame us in the light."
"That's right. It's sickening that they drag us into their own suffering. We give them so much. It's their shame," Cho replied.
We say, BRAVO!
UPDATE:
Day two : Cho is still laying it down