The independent film "Marriage 2.0" earned Movie of the Year at the Feminist Porn Awards in Toronto, Canada on April 17. The film was lauded at the event for its strong female characters and sex-positive story elements and themes.
The 10th anniversary Feminist Porn Awards was part of a series of events produced by Good For Her and scheduled from April 15 to 17 at various locations and times. The awards ceremony was held at Toronto's Capitol Event Theatre. Please visit www.FeministPornAwards.com for more information.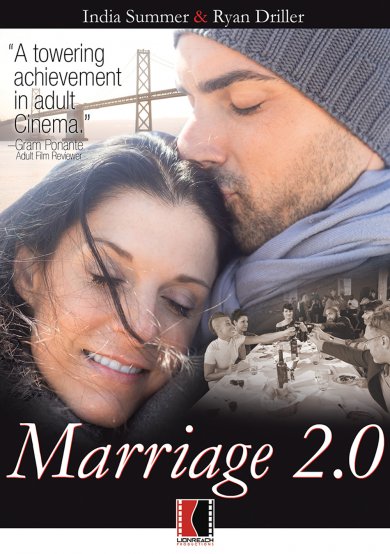 "We are very grateful to the organizers of the Feminist Porn Awards for this great honor," said "Marriage 2.0" screenwriter and producer Magnus Sullivan. "Our aim all along was to create a new kind of film which brings together the best of adult films with the best of independent filmmaking to truly test the very definition of progressive mainstream cinema."
A prepared statement from the show's Creative Director Lorraine Hewitt introduced "Marriage 2.0" to audience members: "'Marriage 2.0' combines beautiful production; poignant sexual exploration; real, human connection; and authentic orgasmic pleasure," wrote Hewitt. "The director used a sophisticated eye to perfectly frame each touch and caress, expertly highlighting the sizzling chemistry between performers and setting it all to a narrative that explores the bittersweet connectivity and dissonance of relationships. In other words: it's got the total package!"
Produced by LionReach Productions and distributed by Adam & Eve, "Marriage 2.0" features compelling performances from adult stars, demonstrating the unique complexity of sexual relationships and corresponding emotions.
To watch the trailer on IndieWire.com, click here.
When discussing what caused Adam & Eve to take a chance on distributing "Marriage 2.0," Adam & Eve Director of Business Development Bob Christian said. "After talking with Magnus Sullivan, it became clear we shared a view on the state of erotic content and porn – a new model needed to be created to appeal to a wider audience and to bridge the chasm between traditional adult movies and meaningful mainstream fare. I knew it was needed, but Magnus already had a clear vision for the first movie in his head. We wanted to help bring that vision to the screen."
"I think 'Marriage 2.0' is appealing because it satisfies viewers mentally and emotionally, while challenging them," added Christian. "It is also hot and sexually interesting, while being varied and provoking. The movie is a human journey of discovery, self-growth, and acceptance. To say there is something for all viewers may sound trite, but it is absolutely true."
Cast member Nina Hartley said, "'Marriage 2.0' qualifies as a 'feminist film' on so many levels, but the one most impressing me is how it treats the emotional life and sexual satisfaction of both women and men as equally important and meaningful. The movie stays clear of nonsense like 'women feel more than men' and 'men don't want intimacy but women do.' As a result, it's a great film!"
The film's newest award comes after its un-rated version received the Best Narrative award at New York's CineKink Film Festival in February. The movie premiered on February 26 on AdamAndEveTV.com, an Adam & Eve property powered by GameLink.com.
Director Paul Deeb was on hand to accept the award. When discussing "Marriage 2.0," he stated, "It is a rare opportunity, to be given the creative freedom to impact an entire genre of entertainment in some meaningful way. 'Marriage 2.0' is a very unique movie, and as it accumulates awards and accolades, it convinces me that we are indeed having the positive impact on this genre we aimed for. With the visionary guidance of producers like Magnus Sullivan, and the continued support of forward looking studios like LionReach and Adam & Eve, the journey is just beginning. We look forward to the day when adult film finally occupies the long awaited place alongside other film genres that it merits, and claims the mantle of respect for its performers and creative professionals that they richly deserve."
The Feminist Porn Awards criteria are quality, or films with good production values and performances; inclusiveness, or films that explore diverse expressions of sexuality; the "It" factor, or films with a unique, fresh or compelling perspective; as well as hotness, or beautiful bodies that are well lit and arouse audiences.
The awards are presented every year by Good For Her, the Toronto-based adult retailer dedicated to creating a nurturing environment for adults seeking to learn more about sex and pleasure. It provides sex toys, erotic and educational books on sex as well as DVDs and workshops to further adult sex education.
"Marriage 2.0" features performances from adult entertainment stars such as India Summer, Ryan Driller, Dylan Ryan, Nina Hartley, and Mickey Mod, along with appearances from internationally renowned sex and relationship experts, such as Emily Morse, Chris Ryan, Marcia Baczynski, Carol Queen, and Reid Mihalko. The film follows a couple (Summer and Driller) on their search for personal freedom, as well as emotional and sexual bliss within the context of an honest and committed modern relationship.
"Marriage 2.0" delves into the nature of commitment and relationships by weaving hardcore sex into a compelling, touching, and controversial narrative, which ultimately drives a film that challenges the portrayal of sex in cinema.
For more information about "Marriage 2.0," visit www.Marriage2point0movie.com.
About LionReach Productions:
LionReach Productions is the brainchild of Magnus Sullivan, a screenwriter and producer from the Bay Area. Sullivan's interest in the dynamics of open marriages, the challenges, and the opportunities for growth is a constant theme in his first two movies. "An Open Invitation" was Sullivan's first foray into adult cinema and remains one of the bestselling movies on the subject. It earned star India Summer the 2012 AVN Awards Best Actress trophy. "Marriage 2.0," Sullivan's first film produced by LionReach, exponentially expands on the scope of "An Open Invitation," making the Bay Area itself a character. "San Francisco is at the center of a relationship revolution," Sullivan says, "And we aim to capture that in our movies." For more information on LionReach Productions' new release, "Marriage 2.0," visit http://marriage2point0movie.com.
About Adam & Eve:
Adam & Eve is the nation's largest marketer of adult products with millions of satisfied customers in the United States and all over the world. Founded in 1971, Adam & Eve is also one of the oldest names in the rapidly evolving adult industry. Adam & Eve is the flagship company of PHE, Inc. While Adam & Eve caters to a general audience, PHE also owns several smaller companies that focus on meeting customers' special needs. For instance, Adam & Eve Pictures produces original titles with some of the biggest names in the adult industry. They are responsible for the award-winning movies "Pirates," "Rawhide," and many others. For more information, visit www.AdamAndEve.com.
About The Feminist Porn Awards:
The Feminist Porn Awards is the largest and longest running celebration of feminist porn in the world. Adult retailer Good For Her is proud to be celebrating ten years as producers of the Feminist Porn Awards. Since 1997, Good For Her has been creating a nurturing environment where everyone can feel comfortable earning about sex and pleasure. Good For Her takes pride in providing quality sex toys, erotic and educational books as well as DVDs and workshops that empower and celebrate the diversity of everyone's sexuality. The Feminist Porn Awards is online a www.FeministPornAwards.com.