In a vote of 105 — 92, Finland's parliament granted equal marriage rights to same-sex couples Friday.
Finland's parliament approved a bill establishing marriage equality on Friday, reports Reuters. Finnish lawmakers approved the legislation, initiated by citizens, by a vote of 105 to 92.
Although same-sex couples have had access to "registered partnerships" since 2002, the new law will  end the legal distinction between opposite-sex and same-sex partnerships, giving same-sex couples equal access to the rights affiliated with marriage, including adoption and name-change privileges, according to Reuters.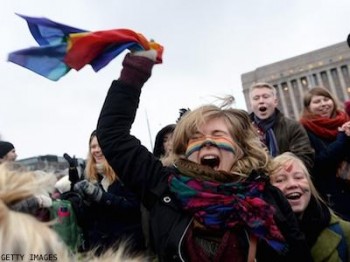 Finland's Prime Minister, Alexander Stubb — a member of the center-right National Coalition party — supported the measure, authoring an open letter urging Parliament to approve the legislation ahead of the vote. "Finland should strive to become a society where discrimination does not exist, human rights are respected and two adults can marry regardless of their sexual orientation," Stubb's letter read, according to Reuters.