In addition to signing at the event, the adult entertainment superstar will also make a guest appearance on VividRadio.com
This week sexy superstar Holly Heart (http://www.twitter.com/HollyHeartxxx) will be making a special signing appearance at the 2015 Adult Entertainment Expo. Held at the Hard Rock Hotel and Casino in Las Vegas, the annual AEE is one of the largest adult entertainment conventions in the country. The hardcore hottie is set to sign at the ATMLA booth #1300 located in The Joint. With over 50 credits to her name, Holly continues to establish herself as a fan favorite and is ready to pose for pictures and sign autographs for those that come to see her at AEE.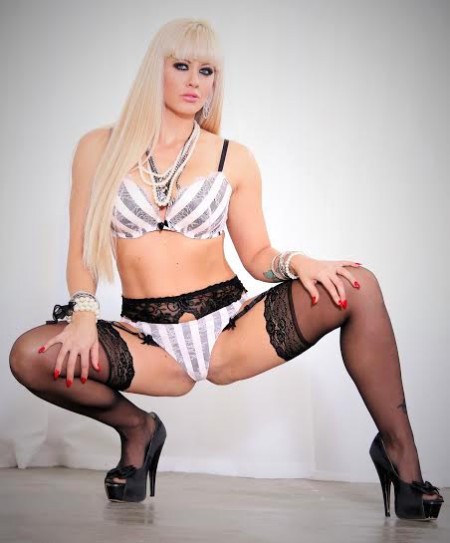 "Meeting fans is something I consider very important," said Holly. "I look forward to doing that at the ATMLA booth. Getting a personal interaction with someone who follows and supports your career is very thrilling."
Thursday – January 22nd
Noon – 4pm
Friday – January 23rd
Noon – 4pm
Saturday – January 24th
11am – 2pm
While at the AEE, Holly will be making an appearance on VividRadio.com. Join the blonde bombshell on Thursday, January 22nd at 1:15pm for a live update from the show floor.
Follow Holly on Twitter for news and info on her AEE experience at Twitter.com/HollyHeartxxx.
The 2015 Adult Entertainment Expo will be held at the Hard Rock Hotel and Casino located at 4455 Paradise Road in Las Vegas. Ticket and other show info can be found on the event's official website: http://fan.adultentertainmentexpo.com.
Holly will be open for select media interviews at the AEExpo. Contact info@StarFactoryPR.com to schedule.
Meet sexy XXX superstar Holly Heart at the 2015 Adult Entertainment Expo! Can't make it to AEE? Listen to her on Vivid Radio this January 22nd!
For more Holly Heart, please visit the Holly Heart network:
www.Twitter.com/HollyHeartxxx
www.Instagram.com/HollyHeart1
www.DreamLover.com/HollyHeart
For more pictures of Holly, please click here:
http://www.starfactorypr.com/Holly_Heart.zip
Holly Heart is represented by ATMLA
www.atmla.com
mark@atmla.com
(818) 825-1239
To interview Holly Heart for your website and/or publication;
Please contact Star Factory PR:
(818) 732-0191
Info@StarFactoryPR.com
StarFactoryPR.com
 A press release by
www.StarFactoryPR.com?