LOS ANGELES (AP) — Four more cases of syphilis have been found in an investigation of an outbreak among porn performers, bringing the total to nine, and the discovery of more cases is likely, Los Angeles County's top health official said Tuesday.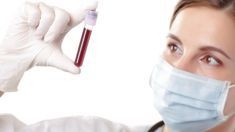 Five cases were reported last week, causing a trade group for the multi-billion dollar industry to call for a halt in filming to prevent the spread of disease.
"It's not surprising in the adult film industry that we would have transmission of all sexually transmitted diseases because they're having unprotected sex, oftentimes with multiple actors," said Dr. Jonathan Fielding, director of the Los Angeles County Department of Public Health.
The current number of syphilis cases in the most recent outbreak "will grow," said Fielding, adding that an ongoing investigation is expected to uncover more cases. The latest discoveries were made through testing of the sexual partners of the earlier cases found, he said.
All those infected are also in the industry, but it remains unclear whether they contracted the illness on- or off-set, he said.
The Free Speech Coalition called for a nationwide filming moratorium this weekend, telling performers to get tested for syphilis and to get penicillin shots before returning to sets. After performers get the shots, they can go back to work within 10 days, said FSC spokeswoman Joanne Cachapero.
Last year, 819 cases of syphilis were reported throughout Los Angeles County, said Fielding. While the number of cases in the porn community may seem small by comparison, Fielding said, "I doubt that the rate of sexually transmitted disease is higher anywhere else."
Fielding said the county health department is alerting providers that work frequently with porn performers, which are largely located in the San Fernando Valley, to be on the lookout for an increase in syphilis cases.
According to the Centers for Disease Control and Prevention, syphilis is transmitted through direct contact with syphilis sores, which mainly occur on the external genitals, vagina, anus or inside the rectum.
A single shot of penicillin can cure a person who has had syphilis for less than a year, according to the CDC. Additional doses are necessary for people who have had the STD for a longer period.
The current self-imposed moratorium on porn shoots isn't the first time the industry has stepped in following news of ill performers.
In 2011, major porn producers stopped filming for nearly a week after an adult film performer tested positive for HIV, which causes AIDS. The Free Speech Coalition said the case was later determined to have been a false report.
In 2010, porn actor Derrick Burts was diagnosed as HIV-positive, and his case was confirmed, briefly halting production.
In 2004, at least five performers tested positive for HIV, prompting another brief self-imposed moratorium.
Source AP