Imagine a world in which any stalker or religious fundamentalist can bring suit against any porn company. This nightmare would become reality if condom fanatic Michael Weinstein of AIDS Healthcare Foundation (AHF) gets his way.
Adult performers are speaking out against a ballot initiative that mandates condoms in porn throughout the state of California. It isn't just the rubbers that they're worried about, though. The measure empowers everyday citizens to sue adult film producers for creating condomless porn—and offers a financial incentive for doing so. Several industry insiders tell Vocativ that they worry this would expose them to harassment from stalkers, trolls, disapproving family members and anti-porn activists.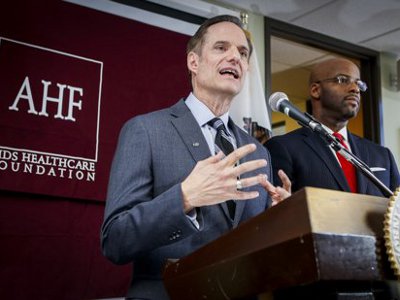 The initiative, which reportedly gained enough signatures last month to appear on the 2016 ballot, is similar to Measure B, a law approved in 2012 by Los Angeles County voters that requires condoms in porn, except that it applies to the entire state. The adult industry has repeatedly fought against attempts at such mandates, arguing that prolonged condom use has significant downsides, including friction burn and "micro-abrasions," and that the industry's bi-weekly testing routine provides better protection. While the focus of this new measure, brought by Michael Weinstein, president of the AIDS Healthcare Foundation (AHF), which has led the charge on condoms in porn, is a familiar one, it also entitles Average Joes to sue porn producers that shoot without rubbers.
It's easy to miss the latter point. In the initiative's 11-item list of "purposes and intent," one brief sentence reads, "To enable whistleblowers and private citizens to enforce the Act when the state fails to do so."
"This bill puts performers at the mercy of any citizen, including those who misjudge and scorn the adult film industry," says porn star Chanel Preston, president of the Adult Performer Advocacy Committee. "Any person or group with an anti-porn agenda, anyone with a personal issue with a specific performer, or an overly zealous fan could use this power as a means to attack performers in the industry."
This fear is based on past experience. "I receive harassment through social media or email almost every day," she says.
Keep Reading