New Sensations announces the release of "Shane Diesel's Dirty Little Babysitter 2," the next chapter in the iconic performer's exciting new nanny series. Directed by Paul Woodcrest, the four story vignette features a young and attractive cast of up-and-comers: Harley Dean, Hope Harper, Baylee Blade, and cover girl Teanna Trump.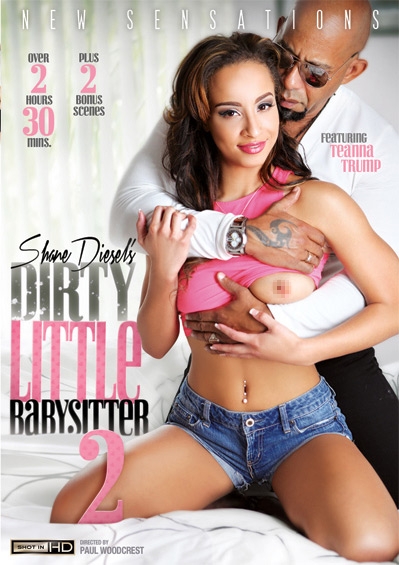 "Fans are going to love 'Dirty Little Babysitter 2' just like they did the first volume. It stars some of the tightest girls I have ever been with. Lots of lube and at least a good 20 minute warm-up was required on each girl," Shane Diesel said. "It felt good, man. And… they were totally down with the Daddy Diesel challenge. We got great scenes. If you like BBC and young tight babysitters, you can't miss this. It's a must-see!"
"Dirty Little Babysitter 2" follows Shane as he's enticed by the young and alluring teens his trusting wife has hired. Harley Deen proves to have a handle on babysitting, but taking care of Daddy is what keeps her employed. Hope Harper continues to fail in her duties as the family's nanny, but succeeds in finding new ways of convincing Shane to keep her around. Baylee Blade's attempts to sabotage Shane's marriage are enough to get her fired, but her vaginal charms are much too good for him to let her go. Teanna Trump is hip to Shane's manipulative come-ons and enjoys turning the tables on him.
"It's always a lot of fun to collaborate with Shane on these movies," Paul Woodcrest said. "He just goes headlong into the fantasy. Whether it's cuckoldry or playing a step-dad or cheating on his wife with a babysitter, Shane's all in. That's why fans go crazy for his movies… that and his enormous penis."
"Shane Diesel's Dirty Little Babysitter 2" has a runtime of 150 minutes and includes an exclusive photo gallery, a candid Behind-the-Scenes featurette, and bonus scenes.
To view the trailer for "Shane Diesel's Dirty Little Babysitter 2 ," click here.
About New Sensations / Digital Sin: New Sensations / Digital Sin is a worldwide leader in adult film production, committed to creating and producing high end erotic content in a variety of genres. The studio has received multiple awards and worldwide acclaim for a variety of titles ranging from dialogue-driven features to all-sex releases. Its Romance Series, which includes such popular films as "Second Chances," "Lost and Found," and "The Friend Zone," went on to inspire the creation of The Couples Series, The Erotic Stories Collection, and The Swingers Series. The Couples Series' film "Torn" and The Erotic Stories Collection's "The Submission of Emma Marx" remain two of the studio's most highly decorated films to date, with both national and international award recognition. New Sensations/Digital Sin is also known for bringing feature-quality, filmic style to their vignette series with "The Innocence of Youth" and award-winning "Tabu Tales" being some of its most lauded releases.
To view the latest information about all New Sensations titles, visit New Sensations, The Romance Series, Tabu Tales,Twitter, or YouTube