Is there any police activity more pointless and pathetic than a "sting" aimed at people seeking to buy arbitrarily proscribed products or services? It is bad enough when the government criminalizes a transaction—a wager, a drug purchase, the exchange of money for sex—that violates no one's rights. When cops go out of their way to enforce that prohibition by tricking people into talking about transactions that will never occur, they manufacture "crimes" that are doubly phony. So how should we view armed agents of the state who invite people to engage in peaceful exchange, only to pounce on them with guns and handcuffs?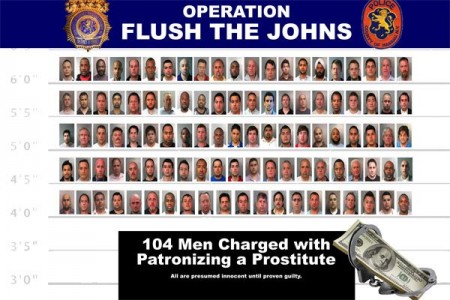 New York Times columnist Nicholas Kristof thinks they're heroes. Consider the breathless opening of his latest column equating prostitution with "human trafficking":
Several police officers are waiting in a hotel room, handcuffs at the ready, when they get the signal. A female undercover officer posing as a prostitute is with a would-be customer in an adjacent room, and she has pushed a secret button indicating that they should charge in to make the arrest.

The officers shove at the door connecting the rooms, but somehow it has become locked. They can't get in. The undercover officer is stuck with her customer. Tension soars. Curses reverberate. A million fears surge.

Then, suddenly, the door frees and the police officers rush in and arrest a graying 64-year-old man, Michael. His smugness shatters and turns to bewilderment and shock as police officers handcuff his hands behind his back.
Exciting stuff. It takes a brave cop to join with several of his heavily armed colleagues in ambushing a defenseless 64-year-old who has committed the unpardonable offense of being smug in the presence of a fake prostitute.
More on Nicholas Kristof at reason.com…