A sex party was ousted from SoHo's exclusive Mondrian Hotel after security quarreled with the party's scantily-clad attendees.
The School of Sex's SiN White Party went off without a hitch, organizers told the MailOnline, until Mondrian personnel started trying to snap pictures of one of their celebrity guests.
Confidentiality is of the utmost importance to the underground swinger's club, so after repeated attempts by security to gain access to the event, they shut it down – and were asked to leave.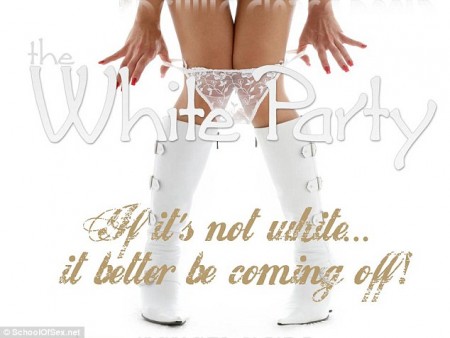 The School of Sex hosts underground parties for amorous couples looking for a little adventure once a month.
'Through a careful process of selection, we successfully congregate an amazingly sexy group of young, attractive, open-minded and intelligent people with a common interest — to explore and indulge their erotic pleasures in a shared space,' the club says on their website.
The parties are governed by four rules: 1. Ladies make the rules 2. No means no 3. Men cannot approach women 4. Members only.
On Saturday evening, they hosted a White Party, where attendees were instructed to wear white to visit the Mondrian's SoHo penthouse.
Dozens of partygoers paid $100 a ticket for a couple or $50 for a single woman's entrance.
Select single men were invited, but hotel security was not.
'The hotel security wanted to gain access because we had a famous celebrity show up and they thought it would be a great chance to expose that information,' Jasmine from the School of Sex told the MailOnline.
'Some of the guests actually saw the hotel security try to snap pictures of our guests paparazzi style when people were exiting.'
The identities of the partygoers is always strictly confidential and guests are encouraged to wear masks and use aliases for the evening. When hotel security started getting rowdy, the School of Sex security shot into action.
'At that point, our own security (ex Navy Seal) grabbed the iPhone the hotel security was using and wiped the picture,' Jasmine said.
But the harassment didn't end there. Jasmine told the MailOnline that hotel personnel followed the swingers to their private rooms, which cost between $245 and $1,200.
'Guests also reported that upon retiring to their rooms, the hotel security followed them and demanded that any room with more than 2 people was in violation of hotel policy of not allowing "parties" in rooms,' Jasmine said.
But hotel security told the MailOnline that a vastly different evening unfolded and there were no 'paparazzi style' photographs taken.
'That never happened,' Mondrian SoHo security guard told the MailOnline. 'I was there. We did not take any pictures at all. We didn't even have our phones out either.'
Mr Ramos said that trouble started when someone complained that the party was getting out of control with too many guests.
'It was supposed to be a film shoot for ten people. That's what it was booked for,' Mr Ramos said.
Instead of a few people, dozens more showed up.
'It just kept multiplying,' he said. 'We did our job and we went upstairs. They didn't even let us inside the room.'
Jasmine said that the party was indeed a photo shoot, but not exclusively.
'The hotel signed a contract with us that the event would include but was not limited to a photoshoot. We actually had a photoshoot with a famous NY photographer who wanted to highlight some of our sexiest female members in lingerie,' she said.
Needless to say, after the run-in with security, the swingers' club called it quits.
'We actually shut the party voluntarily and took about 30 minutes to wind down so every could have a chance to calmly say their goodbyes and leave,' Jasmine said.
'We guess these prudes have never heard of a threesome.'
Source: MailOnline