NYU Hook Ups launched this week to service the scholarly, lonely and horny of New York University.
"You can go to a club and spend hundreds of dollars on drinks and still not take someone home, or you can Like this page like you like your alcohol and comment on someone interesting, with a chance of actually meeting someone new!" reads its Facebook page copy.
NYU Local spotted the Facebook page, offering this wisdom for virgin freshmen heading home for the holidays: "Many of you cold and lonely teenagers will be returning to the suburbs for a month of sexless slumber in your childhood bedrooms, so there is no better time to lose it than now. What else are you going to brag to your friends about?"
Dating sites and other social bulletin boards are nothing new, of course, on campus or out in the rest of the world. But NYU Hook Ups has drawn attention for its perceived mission of facilitating liaisons in a hurry. Glamour.com has chimed in on the fun, writing that NYU Hook Ups aims to get frisky individuals together within 24 hours. Registration screening is supposed to reserve the fun for NYU students, but determined interlopers appear present, the fashion site noted.
For its simple structure, the community's administrators' have either a matchmaker's mission or a perverted curiosity.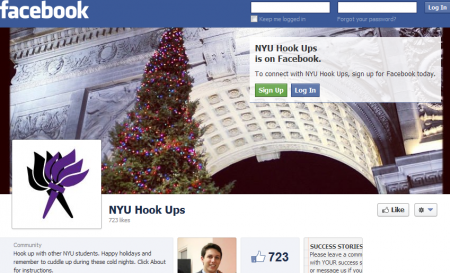 Students answer specific questions related to preferences including, "how many times per week would you have sex" and "turn ons, turn offs… be descriptive as possible" with the purpose of finding someone at least minimally suitable to taste.
Collegians who like a little pain with their extracurricular pleasure might want to consider a version of Harvard's newly official S&M club, Harvard College Munch. But coeds can detail their proclivities in private conversations on NYU Hook Ups, so maybe the aforementioned wouldn't be necessary.
At last glance on Tuesday evening, NYU Hook Ups had gathered 666 likes and 113 posts. No. 113 writes that he would like to "f— bitches, get money." He notes that he's looking for "a long-term, committed relationship."
Consider yourselves warned.
NYU Hookups Facebook Page