I haven't a clue why Kim is automatically considered to have more agency than your average glamour model
With Kim Kardashian West's first round of released images from her Paper magazine shoot only fracturing the internet slightly, the second set featuring full frontal nudes rendered the web beyond repair.
Yes: the internet, as Paper magazine and Kim had hoped, was well and truly broken by her now infamous rear end. It split it down the middle into two camps: those who felt this was the very peak of a modern day woman reclaiming her sexuality, and the rest who didn't, who were by default snobbish stick in the muds harbouring a grudge against a reality TV star because of a ten-year-old sex tape. Take Glee actress Naya Rivera for instance who was immediately dismissed as a 'hater' for a less than enthusiastic response to the shoot.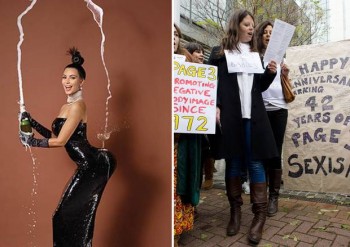 I'm not sure I fall in either camp myself, but one thing is for sure; anything that falls into the latter is the very antithesis of feminism. I patiently awaited the inevitable think pieces in her defence and they came in their droves, billing her a "savvy businesswoman" and defying the idea of it being a by-product of sexism.
The thing is, these two truths are not mutually exclusive.  While you can't knock her business credentials, is it now "unfeminist" to criticise her for well, getting her knockers out solely for the male gaze, and cashing in off male titillation? This becomes an especially fraught issue when you realise many of the feminists jumping to her defence would do anything to see the back of Page 3.
In order to be deemed a "proper" member of in the sisterhood, why must we have to agree with Kim's decision to bare all? I respect and appreciate it's just that – her decision – but when it comes to the response, I haven't a clue why she's automatically considered to have more agency than your average Page 3 model.