A delegation of adult performers chose to drop by Calif. Assemblymember Isadore Hall's office today to ask him to withdraw AB 1576, the bill that would mandate condoms in porn productions statewide.
Alex Chance, Mia Li, Anikka Albrite, Charli Piper and Nina Hartley  brought with them petitions from more than 600 performers who are opposed to the bill, as well as letters from the many organizations which have come out in opposition to the bill — Harvey Milk Democratic Club, Erotic Service Providers Union, St. James Infirmary and Adult Performers Advocacy Committee, among others.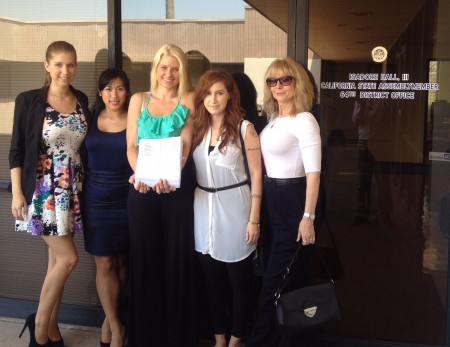 The delegation of performers who traveled to Hall's office in Compton, Calif., said that the bill is overwhelming opposed by adult performers, but Hall, who sponsored the piece of legislation, was nowhere to greet the stars.  
The delegation brought along the following statement:
Dear Assemblymember Hall,

In delivering these petitions and letters, we ask that you respect the very real issues adult performers have with this bill and withdraw AB1576. You designed a bill that would radically transform our workplace without increasing our on the job safety.  You never asked us what we thought, or how this bill might negatively affect us.

We have serious concerns about the ways in which this bill violates our privacy, strips us of our rights, and criminalizes our work without addressing any of our actual labor issues. This bill will in fact deteriorate the safety protections we now have in place.

We have a compelling interest in working to improve performer safety, health, choice and privacy. This bill does none of those things. We ask that you recognize the opposition of performers to this bill and withdraw AB 1576.
AB 1576 is scheduled be voted on in a state Senate panel hearing on Wednesday.