For the last 5 months I've pretty much sworn off tard bashing. My critically acclaimed series "Tales from The Tard Side" hasn't seen a fresh post since March 2013. I stopped for a few reasons: one, people wanted ad spots so I wanted to be more professional and two, I learned the tards liked the attention.
A porn tard usually turns into a porn tard after getting kicked to the curb, so any attention from porners — even the "lets make fun of her and laugh 'cuz shes a fucking dumb drunk who took a bad check for sex" kinda of attention — is good in their crossed eyes …
With that being said, I'm a peacock and you gotta let me fly… So I will begin a new series, a series that will most likely score me writing gig on "Murder She Wrote"…
This is the first of what will be 1,887,876 posts in this soon to be Pulitzer winning series..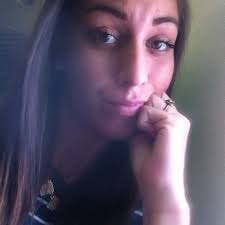 There's a backstory to this that will be explored in depth at a later date. Long story short, Rilynn Rae has a thing for little tiny Canadians named Jessy Jones who like to choke women.. When her lover violated a Restraining Order at AVN he was detained by Hard Rock security, maybe arrested and maybe charged with more crimes… So like all bad mutherfuckers, Rilynn took to Twitter to show how gangster she was. Forget that she and the party she was attacking were both in the same place for many hours and this could have been handled there.. No No..It's twitter beef…
So what does this dumb chick do? She tweets Kendall Karson's legal name to her. Not a huge deal but not a good thing either.. What makes it worse is, she tweets it attached to a screen shot with a link to a site that attacks hundreds of active pornstars – essentially promoting it to her 59,000 plus followers (who may or may not be all real).
Ok, maybe this chick is just fucking stupid and had NO idea who runs the site she's promoting. So, me being the coolest of the cool, I reach out to the BF of this dumbass, explain that she's promoting a pornstar hate site. He responds with the usual shit but said he asked her to take it down and she refused.
What does this retarded bitch do next?? She tweets Axel Braun looking for work
The same Axel Braun pictured below, the guy standing in between Kendall Karson and Ryan Driller after THEY won an Xbiz Award for a scene in his movie, like 4 days ago…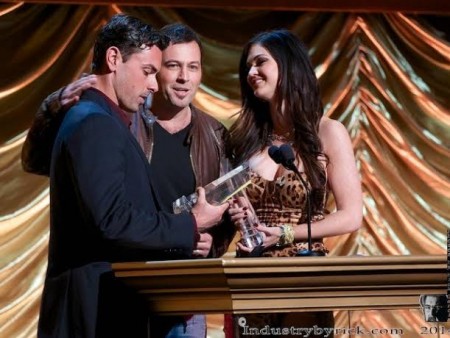 Note to tards, when attacking pornstars and promoting hate sites, do it at least 30 days after award season ends…
It just gets better though. Yesterday the Canadian choker told me he had the support of the whole adult industry:
"should know both side before you support someone who pays you to..the whole industry is behind me on this…good luck with all this buddy."
Hmmm, Maybe not the WHOLE industry BUDDY..
That's all for now. I'm off to cash Kendall Karson's checks…