Saying the maneuver violated state law, a judge threw out a ballot initiative seeking to force the City of Los Angeles to create its own health department instead of relying on the county's. The ruling laid to rest, at least temporarily, only one of the legal and financial battles facing AIDS Healthcare Foundation, the charitable organization that mounted the initiative.
After collecting nearly 70,000 signatures on a petition to place the measure on a ballot in the November 2014 election, AHF backed away from the initiative in the face of public criticism and lawsuits from both the city and the county. The organization now plans to put a citizen-led health commission before the voters instead.
Meanwhile, AHF faces a continuing court battle against members of the adult entertainment industry who challenged the organization's previous, successful ballot measure and won. In August, a U.S. District Judge threw out as unconstitutional portions of L.A. County's Measure B, which requires adult performers to wear so-called barrier protection during all explicit shoots. The ruling awaits an appeals hearing at the Ninth U.S. Circuit Court of Appeals.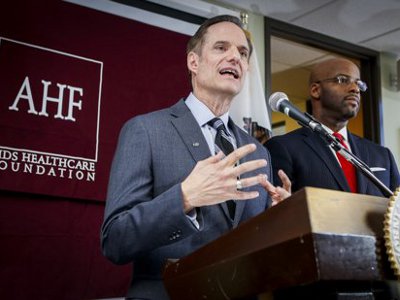 Lawsuits are de rigueur for AHF, which recently filed suit against Tarrant County, Texas, after the county declined to help fund an AHF clinic in Fort Worth.
Keep reading YNOT