New CDC report reveals troubling equality when it comes to sexual assault rates.
Writing in Time, Cathy Young notices something interesting in the Centers for Disease Control and Prevention figures on rape: Women rape a lot more than people think..
If the CDC figures are to be taken at face value, then we must also conclude that, far from being a product of patriarchal violence against women, "rape culture" is a two-way street, with plenty of female perpetrators and male victims.
How could that be? After all, very few men in the CDC study were classified as victims of rape: 1.7% in their lifetime, and too few for a reliable estimate in the past year. But these numbers refer only to men who have been forced into anal sex or made to perform oral sex on another male. Nearly 7% of men, however, reported that at some point in their lives, they were "made to penetrate" another person — usually in reference to vaginal intercourse, receiving oral sex, or performing oral sex on a woman. This was not classified as rape, but as "other sexual violence." And now the real surprise: when asked about experiences in the last 12 months, men reported being "made to penetrate" — either by physical force or due to intoxication — at virtually the same rates as women reported rape (both 1.1% in 2010, and 1.7% and 1.6% respectively in 2011).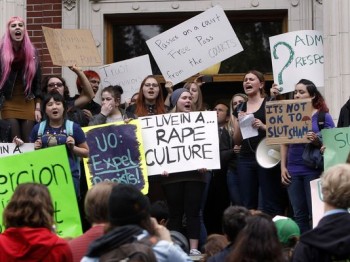 In short, men are raped by women at nearly the same rate women are raped by men