If there's one thing I don't do over at LukeIsBack.com is kick a crazy bitch when they're down..Luckily, this is TRPWL, so lets get to kicken.
Succeeding in porn is a combination of several things, one important thing is delivering a good scene..Something Serenity has yet to do..Behold exhibit A:
http://efukt.com/21379_The_Dumbest_Cunt_In_Porn.html
That's the same shoot were Serenity lied and said was she was raped and then wasn't paid. Both of which turned out to be a lie.
The 2nd time she claimed to not have been paid, I emailed her agent

I wonder which one is lying?
So after the Woodman vid showed up on line, people begin to question whether or not she could take a porn sized dick. Her response was her BF was 9.5 inches, she even went as far as to post a pic
A couple days later, her BF got major plastic surgery, he know looks like this: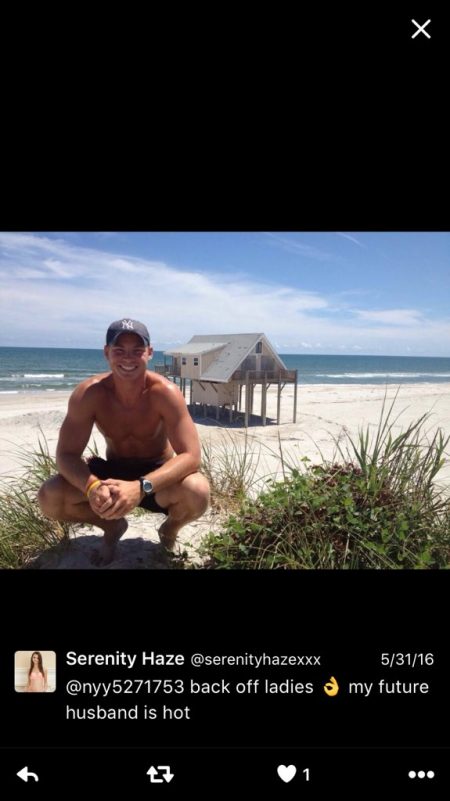 Hmmm, Odd. Its almost like those are different dudes..
From Serenity's online diary
Day by day it's more impossible to cope, I feel like I'm the one that's doing dope
Can't keep a steady hand because I'm nervous, Every Sunday morning I'm in service
Playing for forgiveness , And trying to find an exit out of the business
I know the Lord is looking at me, But yet and still it's hard for me to feel happy
I often drift while I drive, Havin fatal thoughts of suicide
BANG and get it over with, And then I'm worry-free, but that's bullshit
I got a little boy to look after, And if I died then my child would be a bastard
I had a man down with me, But to me it seemed like he was down to get me
He helped me out in this shit, But to me he was just another bitch
Now he's back with his mother,Now I'm realizing that I love him
Now I'm feeling lonely, My mind is playing tricks on me
Could it be Serenity has no BF?  Not that there is anything wrong with that.
What the fuck, Serenity doesn't need a BF, she's single and ready to mingle. Maybe she can go hang out with Sheena Ryder
Maybe not.
Maybe Kurt Lockwood can show her around Vegas, introduce her to some nice guys
Maybe Not
Well at least her agent and her got each others back.
Maybe not.
So Serenity has now got rid of 3rd agent in like 3 months..It surely couldn't be that she's the issue right?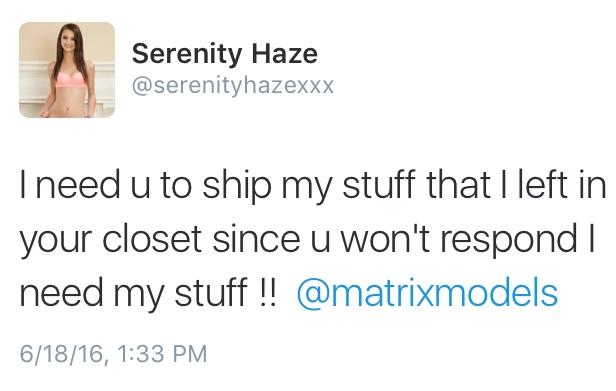 She must of left her KKK mask and a few nails from the last cross she built at Johns.
LOL hmmm were do I start?  Ok, Uncle Joker, Matrix is her agency, the ones that got her all 3 of her shoots. That comment does explain why you're a Serenity fan, I bet you get all the best parking spots, my only question is do you wear a helmet and floaties when you eat soup?
At least she has her fans
Maybe Not
At least she's not racist
Maybe Not
At least she has a safe full of money
How many $5 gift cards does it take to flood a safe?
Ill leave you with her response to the EfuKt guy