You would think after yesterday's award winning write up, Serenity would pack it in. But nooo… she's like the little retarded engine that could..
Let's recap the last few days, shall we.  Serenity accused Woodman of rape. Not only was she allegedly raped by Woodman, but he raped and didn't pay her. Of course, like the true super hero I am, I pointed out the flaws in her stupid story and then without warning, eFukt dropped the bomb on her, declaring her "The Dumbest Cunt In Porn." Think about that for a moment. There have been ALOT of dumb cunts in porn.. I'm talking tons, but Serenity has been declared the unanimous winner! I heard she even got a cool 'Dumbest Cunt' tee and a 'Dumbest Cunt' participation ribbon.
Someone left this awesome comment on my site:
"Does it bother anyone else that this woman has the temerity to falsely accuse Pierre Woodman of rape out of one side of her mouth, only to have the audacity to actively wish fellow industry peer Sheena Ryder to be gang raped out of the other side of her mouth? I actually know REAL victims of rape and sexual assault, and find these statements of hers despicable. I get that she's young and stupid, but that's not a sufficient excuse for either of these statements, It's clear that we're witnessing her adult career in it's death throes, which is certainly for the best for everybody, as she's not hot and has literally nil sucking and fucking skills, so her ass getting bussed back down to the minors of the industry to webcam for $5 gift cards makes the most sense for all concerned parties. Cherish that flooded safe of yours Miss Haze, because like they say on Game of Thrones, winter is coming!"
Since the epic gang-rape tweet yesterday, Miss Haze has fired at least one more:


It's troubling that one women could wish rape on another, especially since the one wishing it on others has claimed to have been raped herself.
Unless of course, the person doing the wishing has actually been convicted of rape…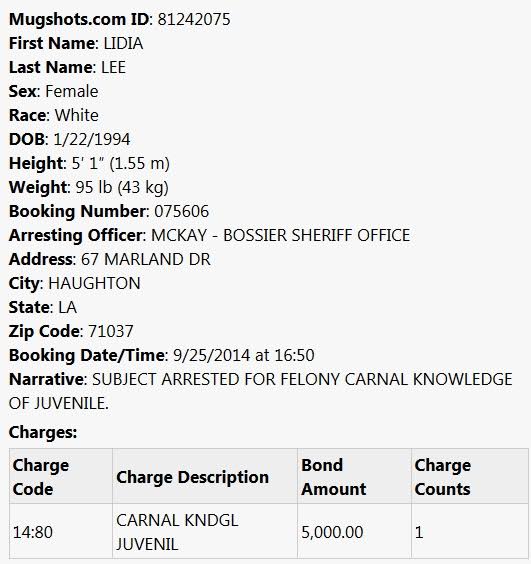 It looks like Miss "I'm not a racist" Haze was arrested and convicted of fucking a 16 year old.. Explains alot. I wonder if she has to register as a Sex Offender, surely the scam union has rules about rapists.
Rule 44, subsection b, paragraph 4, section 2, line 2 – Any performer who rapes minors and is voted porn's biggest cunt can't be in porn anymore.
I can see the shit now, 16 year old comes home, 'Dad, dad, I just banged a 20 year old'.. 'Really son?' High five..'Did you take a picture son?' 'Of course pop, check this out'
Dad immediately beats son, forces him to take a drug test and then calls 911.
Oh, and just in case any of you forgot:
Yes, the constant use of the N-word does not a racist make.  That little gem was sent to P Carter, after Pressley laid the smack down on her via twitter.
I found out were Serenity keeps her $5 amazon gift card filled safe:
And guess what else…found out she lives next door to Mike South…
From what I understand, it's been a fun-filled day on her timeline, a timeline that has sense been made private. I will post a few of them below.. As you will see, she's on her way to either AVN performer of the year, or The First 48..

She went to college and learned where Miami is..LOL 


Huh?  You shoot porn Serenity, not very much and not very good, but you still shoot..
But yet you screamed for weeks about the money your agent hadn't given you. Then got so hard up you began selling clips for $5 amazon gift cards.. I'm guessing you got the nicest trailer in the trailer park?? Full size fridge AND hot water. WINNING!

LOL! The eFukt vid, which is your most popular vid to date BTW, up to 340,000 views, and lets be perfectly honest, its not because its quality porn.
I have a question?  Should girls be afraid to touch balls?  I mean, I would think if you shoot B/G, touching balls is is part of it. Or are we to the point in porn where a girl will put touching balls on her no list..
Abella Dangers booking info, B/G, B/B/G, GB, Anal, IR, G/G, Toys, Dom, BDSM, Only thing she wont do is touch some balls…
Ms. Haze: you've insulted about 100 different porn stars personally, 4 directors, and you've tweeted insults about the girls who shoot in general. Maybe, just maybe you can self book a snuff vid down in Ole' Mexico..
Look at the bright side, at least you can spend time with your fake boyfriend.
Note: Next time you make up a fake BF, don't tweet a pic of some scruffy haired dude with a fuzzy chin then claim he's in the military..
Stealing pics isn't new to Miss Haze..
She was accused of stealing pictures a few years ago to use in one of her many online scams..
Even worse, Serenity has actually stolen pictures of sick baby and created fake fundraising scams.
SHREVEPORT, La. (KTBS) –

Strangers open their hearts and their wallets to donate to a sick little girl's GoFundMe account.

The problem?

That little girl's family doesn't know anything about that fundraising account. They say whoever started it is using their little girl's situation to scam people out of money.

Ashley Guice of Haughton has a little 18-month-old girl named AnnaLea who has been struggling with epileptic seizures.

"In June of last year she had her very first seizure," she said.

Since then, AnnaLea has seen countless doctors for her epilepsy. Doctors have not been able to diagnose exactly what AnnaLea has. Guice said she made a Facebook and GoFundMe page so family and friends could help and follow AnnaLea's progress.

But over the weekend, Guice was devastated to see pictures of her baby girl somewhere else.

"Anna Lea's pictures with a different name on there and she had been raising money off my child's pictures," she said.

She's describing a GoFundMe page with some money raised for a girl named "Lacie Brooke." If one looks between AnnaLea's Facebook page and the GoFundMe account, you can see the same pictures.

"It's unimaginable how someone could do that," Guice said.

The pictures are from when Anna Lea was put into a medically induced coma. Guice says they seemed to have been stolen from her social media accounts.

"It's really hard to see that somebody would try and steal and use my daughter for something like that," she said.

The family filed a police report to local authorities. The Bossier Parish Sheriffs Office says even if it sounds good, do some research before giving your money.

"It's a shame that we've got to get involved in such things. It's a shame that we realize that there are folks out there who try and scam people who work for their money, and then there's folks who try to take it in illegitimate and illegal ways," said Lt. Bill Davis.

The GoFundMe website says unfortunately, there's no way to guarantee a page has truthful information — donors should only give to pages they know and trust.

After an outcry on social media, the page has since been taken down. But the Guice family wants to make sure this doesn't happen again.

"There are lots of different accounts out there to donate to, just make sure you're donating to the right one," said Shelley Langford, Anna Lea's grandmother. "Because there's a lot of people out there that do this. My daughter has been through enough."

The Guice family said there were several other GoFundMe pages links to the same account, and they believe they know who created it.

We called the woman — who is local and wanted to be unnamed. She's associated with the facebook page linked to the go fund me account. She tells us she believes her account was hacked, and that someone stole her pictures to create this fake account.

Here's some advice from the Bossier Parish Sheriff's Office when it comes to donating online:

Anyone who asks you to put money on something like a green dot card, is a red flag.
Understand who you are giving to.
Do your research on the organization or the entity.
If possible, know the family or the people you are giving to — don't be afraid to ask questions.
From what I understand this isn't the first fundraising scam shes done.
eFukt got it right, She is the Dumbest Cunt In Porn…