ARMED cops were left red-faced after being called out to a man wielding a SEX TOY, the Sunday Mercury can reveal.
As many as 15 armed officers from West Mercia Police were called to reports of a man with a firearm tucked into his waistband in the Hadley area of Telford on Tuesday afternoon last week.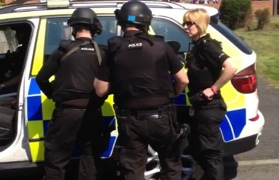 Residents of Crescent Road cowered as armed cops carrying machine guns and wearing bulletproof vests walked down their sunny street with a dog unit in tow.
Officers arrested a 33-year-old man at his home while bemused neighbours in the crime-ridden area of the Shropshire town looked on.
But the deadly weapon turned out to be a dildo, the Mercury understands.
Cock-up
Last night one neighbour said: "I think this is what you might call a classic cock-up.
"Nobody could believe what they were seeing when these armed Robocops turned up on the street from nowhere. Hadley can be a tough area but it's not that bad, surely?
"Then we heard them arresting this guy and he was screaming to his girlfriend to hand over the dildo. It was unbelievable."
A 33-year-old man, who has not been named, has since appeared at Telford Magistrates' Court, charged with possession of an imitation firearm, criminal damage and robbery.
He has been bailed and is due to re-appear at court in the near future.
Residents in the Hadley area said they could not believe the police responded in such a heavy-handed manner.
Another neighbour, who did not want to be named, said: "I suppose they have to take these things seriously.
"Everyone round here is glad that they did – but instead of brandishing a gun he was carrying a silver dildo.
"Apparently it was some kind of domestic argument that got out of control.
"Someone called the cops, telling them he had a gun and they came down on us like a ton of bricks. The whole thing is hilarious."
The Hadley area of Telford is a notorious high-crime area.
Last year the Sunday Mercury revealed the chilling moment when an armed robber stormed into a local corner shop and brutally battered the owner around the head with a baseball bat.
CCTV images showed the crazed thug also threatening Muhammad Shabbir with an eight-inch knife during the raid.
Eventually, the bleeding dad-of-four managed to fight off the masked robber with a chair, as his terrified 16-year-old son, Atif, cowered in a backroom.
Last night West Mercia Police would neither confirm nor deny that the 33-year-old man arrested at his home had carried a dildo instead of a gun.
A spokeswoman said:"A member of the public reported to us that a man had been seen with a firearm in the Hall Gardens area of Hadley on Tuesday.
"Any reports of firearm incidents are taken seriously and we send resources according to the anticipated threat level," she said.
"A man has since been charged with possessing an imitation firearm, criminal damage and robbery.