Sex workers from across the UK and rest of Europe crammed into a select committee room in the House of Commons to argue against plans to change prostitution laws that would criminalize clients.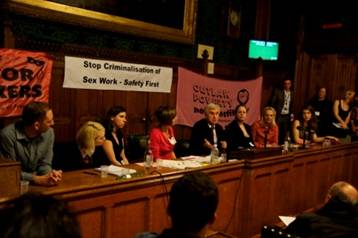 Buying and selling sex
Recently an all-Party Parliamentary Group called for the British prostitute laws to be overhauled so that women selling sex are no longer criminalized but buying sex is against the law. In other words, buying sex would become illegal, but selling sex would no longer be a criminal offense.
A similar law is being planned in Europe along the lines of countries such as Norway and Sweden where clients are criminalized for buying sex.
Lives at risk
The English Collective of Prostitution (ECP) has criticised the proposals stating that criminalizing clients would not stop prostitution nor will it stop the criminalization of women. But it would make it more dangerous and stigmatising for sex workers and put lives at risk.
The parliamentary meeting was hosted by Labour MP John McDonnell and organised by the English Collective of Prostitutes and the People's Parliament.
Opinion Poll
On the day of the meeting an opinion poll revealed that over half the UK public opposed criminalization of prostitution.  Conducted by GfK for the Campaign for Radical Sociology, the poll also found that only three in ten nationwide were in favour.  In London it was only one in four.