While a FIFA fan fest raged in Rio de Janeiro's ritzy Copacabana neighborhood last week, a few blocks away Brazilian sex workers were having their own party. Sex workers and their political allies wore shirts designed to look like soccer jerseys, silkscreened with phrases like "Vai Ter Copula"—a pun on the protest phrase "Nao Vai Ter Copa" ("There Will be No World Cup") that translates to "There Will Be Sex."
Sex workers have occupied a unique place in the protests and festivities around the World Cup. Sex work is legal in Brazil, where sex workers even qualify for social security benefits, as is sex tourism. But the government cracked down on the industry leading up to the World Cup. On May 26, just before the start of the games, police  raided an apartment building in downtown Niterói and arrested over 100 people—sex workers say their money was confiscated and several people reported being beaten or forced to perform oral sex on police. In response, sex workers and their allies took to the streets in protest, even playing a game of semi-naked soccer outside Niterói's municipal building.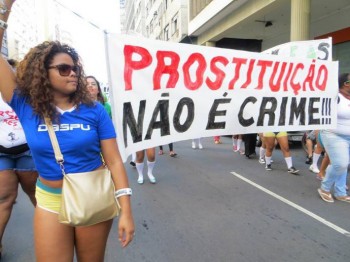 Brazilians feared that the thousands of fans pouring into the country during the World Cup would lead to an increase in child prostitution—especially in areas where new stadiums are being constructed. That is certainly a concern. But sex workers who are of legal age argue that the World Cup can bring them much-needed income. It's estimated that close to one million people work in the sex trade across Brazil and sex tourism is indeed a big industry. In 2013, The Prostitutes' Association of Minas Gerais launched a campaign to offer free English classes to about 80,000 sex workers so that they could better negotiate their services with the thousands of tourists arriving to attend games in the state's capital city, Belo Horizonte.  About 600,000 tourists are planning to come to Brazil for the World Cup, of which 400,000 will be in Rio de Janeiro. Sex workers asked if everyone can profit off all of these tourists, why can't they?
Keep Reading