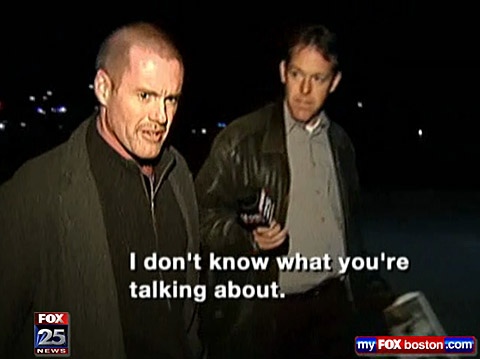 Should This Gay Porn Star Be Allowed to Teach High School Kids?
The Fox News station in Boston kicked off their newscast last night with this investigation, about a local English teacher and crew coach who made several gay porn movies recently. He's now on paid leave and will probably lose his job. What do we think of all this?
Teachers dealing with a porn past—gay or otherwise—seems to be cropping up more and more frequently. If it's not Sasha Grey reading to school kids then it's this: the porn past of a teacher comes out of nowhere to bite him in the ass. Parents naturally get in a tizzy, school officials have to take some sort of action, and the scoldy media gets to do some sex shaming (even better if it's gay sex shaming) and finger wagging. How do you guys feel about this?
In this case, Kevin Hogan is head of the English department at Mystic Valley Regional Charter School in Malden, outside of Boston. He was hired last year to teach and act as the crew coach, and boy does he know a thing or two about stroking. He made his porn movies back in 2010, so it's a rather recent career. Still, by all accounts, he is a great teacher and the kids on his team love him. Does he deserve to be fired? He should be punished for having a name as stupid as Hytch Cawke. I mean a misspelling and old movie buff with a double entendre? That's just too much!
Still it's a little sad that this guy is going to lose his job, and probably any other teach job in the whole world for making three rather low-rent movies. I mean, it's one thing to lose your job over a big splashy Falcon production where you're fucking a major hunk. (I'd quit my job if Randy Blue gave me a shot at Chris Rockway!) It's another to go out after starring in Ass Fucked by a DILF.
What's the big deal about letting a guy who did porn teach kids? Yes, it is problematic if the kids see the porn and, even though kids shouldn't be seeing porn, they probably will. There are morality clauses in most school districts, but is making porn necessarily immoral? I don't think so, and I don't think I'd have a problem with my son or daughter being taught or coached by this guy.
But my son and daughter are completely hypothetical. How do you guys feel? In the future, more and more people will be in porn, so how do we deal with this when it happens? Was Fox News right to go after this guy merely because he was in porn and is a teacher or is it a witch hunt? Would this be as big of a deal if it was straight porn? Or a lady? Does making even one porn movie preclude a person from ever working with children again ever in their entire lives?
Let us know what you think. It's a thorny issue so I hope there's at least one good fight about this.
From Gawker