HUSTLER Video, the Supreme Leader in adult entertainment, is pleased to announce that sales have been stellar on video parody This Ain't The Interview XXX, and that no one has hacked the Company's online network.
Directed by Will Ryder and starring Chanel Preston, Cindy Starfall, Akira Lane, Anya Ivy, AJ Applegate, Mila Blaze, Lucky Starr, Angelina Chung and Mia Li, the movie boldly punches dictatorship in the eye and relentlessly mocks Kim Jong Un who became the Supreme Leader of North Korea after his father dropped dead. The idea for the adult parody was born when it was widely reported that North Korea was responsible for the hacking of Sony Pictures' email system, instigating widespread panic in the Hollywood movie industry and causing the curtailing of the mainstream film's theatrical release.
"It's quite apparent that Kim Jong-un doesn't react well to criticism, and he wants to dictate what movies Americans can watch," said HUSTLER Founder and Chairman Larry Flynt. "We figured that was the perfect reason to produce a scathing video parody of him and shove it right up his ass."
This Ain't The Interview XXX is hilarious and follows the story of two American television reporters who travel to North Korea to assassinate the country's dictator, but their plans go awry when emotions take over and lead to wild sex orgies and lovemaking with beautiful Asian women.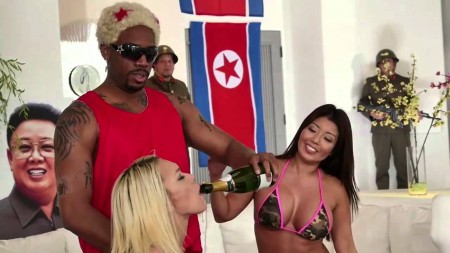 "This is a bold statement for the freedoms we enjoy as Americans and an even louder statement about the bad haircuts they have in North Korea," joked Ryder. "Truth be told, though, at first I was a bit nervous prepping this movie, but I live in America—land of the free and home of the brave—so I refuse to be worried about some asshole in North Korea putting a hit on me. I was honored to do this movie with Larry Flynt because, whether you like it or not, the freedom to create is truly what makes our country great."
This Ain't The Interview XXX is available now. ORDER TODAY!
SFW Trailer: https://www.youtube.com/watch?v=DmupJtk7lKU
Hard Trailer: http://www.hustler.com/dvd-trailer/2408/this-ain
HUSTLER Video, a part of the LFP family of companies, is a worldwide leader in adult entertainment, encompassing HUSTLER Video, VCA Pictures and HIS Video. Since 1999, HUSTLER Video has delivered the very best in adult films with groundbreaking series like the long-running Barely Legal, Busty Beauties and Beaver Hunt franchises, and a growing number of popular parodies. HUSTLER was the first adult studio to release a Blu-ray title, and it continues to innovate with its state-of-the-art 3D productions.
For sales inquiries, please contact David Diamond at ddiamond@girlfriendsfilms.com or (310) 713-3971.